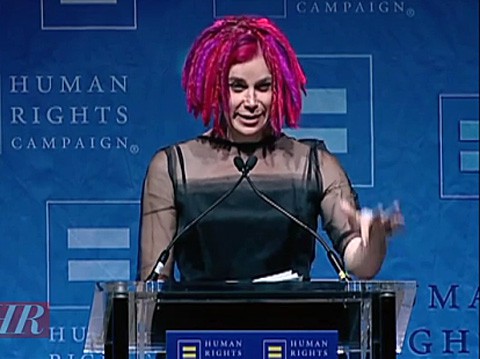 At the Human Rights Campaign's annual San Francisco gala dinner Oct. 20, trans director Lana Wachowski (Cloud Atlas, The Matrix) delivered a lengthy, powerful amazing speech upon being awarded HRC's Visibility Award in which she talks about her painful childhood, her suicide plans, and coping with fame, family, and making her transition.
Watch highlights as well as the entire speech, AFTER THE JUMP…
Wachowski also talks about receiving the award and delivering the speech in a Q&A with the Hollywood Reporter:
THR: In the speech, you refer to "this moment," as in, the moment your whole life had been leading up to. Did it live up to everything you had built it up to be?
Wachowski: I knew that I would do this eventually, but it was interesting that I didn't want to inhabit the memory too closely. A lot of them are very painful memories. I had practiced the speech once before I went on with my partner, and I cried several times while I was doing it, and she said, "Come on! You don't want to be blubbering in front of a thousand people in tuxedos." So when I did it, I did try to have a little bit of distance from the actual emotion of the memory. And then when I wasn't talking so much about myself, and I was thinking about someone who was like me when I was young, feeling that I was fulfilling the example that I was looking for when I was young. Then it was weird how potently the emotion hit me when I was thinking about someone else. It caught me off guard, and I started to get very emotional. And I had to stop.
Highlights from the speech:
Here's the full speech, and here's a transcript: