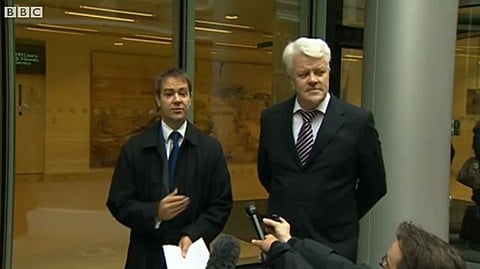 London's High Court has ruled for Adrian Smith, a worker at Trafford Housing Trust in Manchester, who was punished for anti-gay comments he wrote on Facebook.
AFP reports:
Smith lost his managerial status, had his salary cut by 40 percent and was handed a final written warning after posting on Facebook that gay weddings in churches were "an equality too far" and following up with other comments.
Although the remarks were not visible to the public and were posted outside work time, Trafford Housing Trust said Smith had broken its code of conduct by voicing religious or political views that could upset his colleagues. Judge Michael Briggs ruled that the trust had no right to demote Smith and had breached its contract with him, while the Facebook posts did not constitute misconduct.
Smith was awarded less than £100 in damages but the judge said he could have won far more if he had launched proceedings for unfair dismissal at the employment tribunal.
Smith's follow-up comments on Facebook were: "I don't understand why people who have no faith and don't believe in Christ would want to get hitched in church. The Bible is quite specific that marriage is for men and women. If the state wants to offer civil marriage to the same sex then that is up to the state; but the state shouldn't impose its rules on places of faith and conscience."
Watch the BBC's report and a press conference with Smith, AFTER THE JUMP…