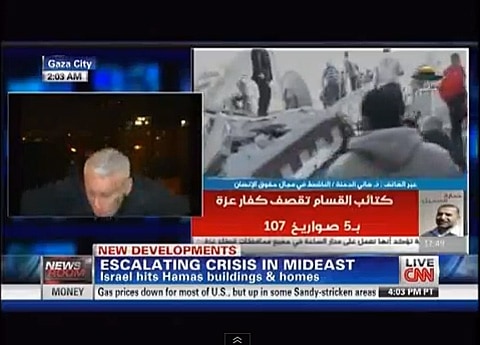 Anderson Cooper was reporting live from Gaza on Sunday night when a large explosion went off nearby, causing him to duck for cover.
Watch, AFTER THE JUMP…
Meanwhile, the death toll rises as Israel fires back at Gaza militants ongoing barrage of bombs and world leaders work to broker some kind of cease fire, the WaPo reports:
With little apparent progress in cease-fire negotiations in Cairo, British Foreign Secretary William Hague warned that Israel would lose support from the inter­national community if it followed through on threats to deploy troops in Gaza. President Obama, at the start of a three-day trip to Southeast Asia, reiterated U.S. support for Israel's right of self-defense but said he was hopeful that the fighting could end through diplomacy.
Egyptian President Mohamed Morsi spoke by telephone Monday to a number of world leaders, according to his spokesman, including German Chancellor Angela Merkel and Iranian President Mahmoud Ahmadinejad.