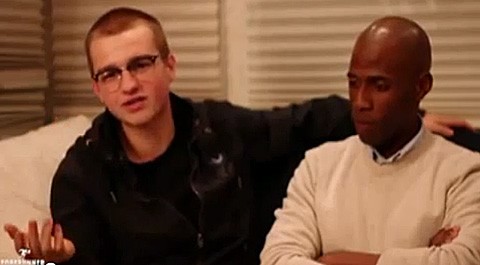 Actor Angus T. Jones, who makes $350,000 an episode on Two and a Half Men, appears in a new video describing how he became a born-again Christian and urges people to NOT watch his show any longer.
Says Jones:
Please stop filling your head with filth. Please. People say it's just entertainment. The fact that it's entertainment. Do some research on the effects of television and your brain and I promise you you'll have a decision to make when it comes to the television…It's bad news. I don't know if it means any more coming from me. But you might have heard it otherwise. But watch out…A lot of people don't like to think how deceptive the enemy is. He's been doing this a lot longer than any of us have been around…You cannot be a true, God-fearing person and be on a show like that.
It's unclear what's going to happen between Jones and producers, TMZ reports:
We've learned Angus has not contacted any of the show honchos to express his intentions, nor have any of his reps done the same.  Although Angus says in the video he doesn't want to be on the show anymore, that message has not been conveyed to show execs.
On the other side, we've learned Chuck Lorre, the brains behind the show, has not played his hand … even to Warner Bros. executives.  Today could be telling, because there's a scheduled rehearsal this AM.  It's unclear if Angus is supposed to be there, but if he's a no-show his absence could be the first step toward the door.
Watch, AFTER THE JUMP…
More of the video: