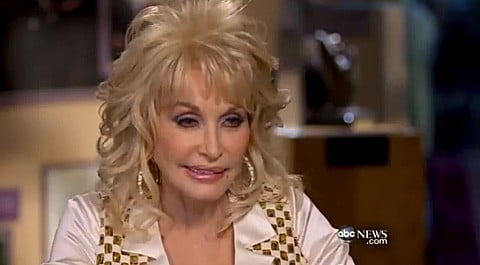 Dolly Parton sat down with Nightline last night to discuss her career, and her personal life.
Parton said that she laughs over rumors that she is gay, adding that she has that in common with Oprah, and they've discussed it:
"Like Gayle [King], her friend, Judy, my friend, they just think that you just can't be that close to somebody," Parton said. "Judy and I have been best friends since we were like in the third and fourth grade… We still just have a great friendship and relationship and I love her as much as I love anybody in the whole world, but we're not romantically involved."
Parton also talks about a drag queen contest she once entered, and lost:
"They had a bunch of Chers and Dollys that year, so I just over-exaggerated — made my beauty mark bigger, the eyes bigger, the hair bigger, everything. All these beautiful drag queens had worked for weeks and months getting their clothes. So I just got in the line and I just walked across, and they just thought I was some little short gay guy.. but I got the least applause."
Watch, AFTER THE JUMP…