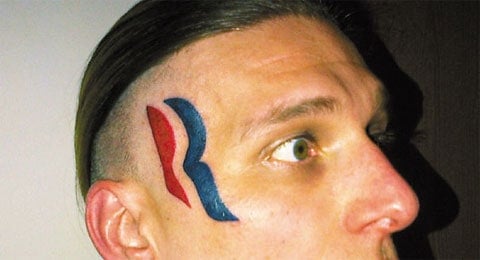 "R" is for regret, especially if it's in the form of the 'Aquafresh'-style logo of the Romney-Ryan campaign, and it's tattooed on your temple.
Politico reports:
Suffice to say, he's not happy with Tuesday's results.
"Totally disappointed, man," Hartsburg told POLITICO. "I'm the guy who has egg all over his face, but instead of egg, it's a big Romney/Ryan tattoo. It's there for life."
Hartsburg's tattoo covers a 5-by-2 inch space on the side of his face, and he did it after raising $5,000 on eBay for the effort. He didn't even tell his wife he planned to get the tattoo until about an hour before.
Right away, she was taken aback," Hartsburg said, adding that his wife is also a Romney/Ryan supporter.
"My 15-year-old son, however, he was all about it."