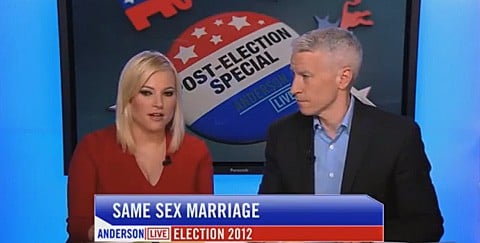 Socially moderate Republican Meghan McCain joined Anderson Cooper for a post-election Anderson Live and talked about how awful it is for a losing candidate's family (the Romneys) to have to put on a brave face on election night, and she would know.
She also calls the same-sex marriage wins "the silver lining" of last night's election results. McCain also applauds the legalization of recreational marijuana in Colorado and Washington state.
Said McCain: "If I want to smoke weed, responsibly, it's nobody's business and I think it should be legalized everywhere."
Watch, AFTER THE JUMP…