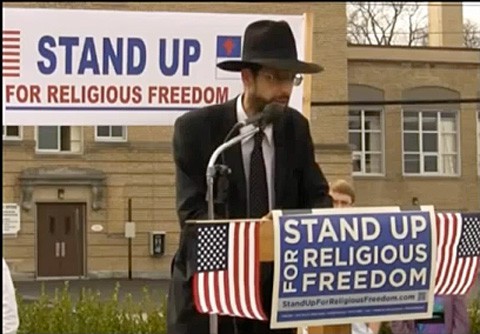 Last week, Right Wing Watch reported on Rabbi Noson Leiter of Torah Jews for Decency, who blamed Hurricane Sandy on gay marriage in an October 30 radio interview:
Leiter asserted that the "the Great Flood in the time of Noah was triggered by the recognition of same-gender marriages," adding that there are similar "messages in this particular storm for us." "The Lord will not bring another flood to destroy the entire world but He could punish particular areas with a flood, and if we look at the same-gender marriage recognition movement that's occurring, that certainly is a message for us to learn," he said. "We have to learn that the Lord does watch what we do and if we don't shape up He will deliver divine justice." Leiter also suggested that God flooded Lower Manhattan because it is "one of the national centers of homosexuality."
Former NY Governor George Pataki blasted the rabbi's remarks over the weekend:
Pataki called on fellow Republican Neil DiCarlo — who is running on the Conservative Party line for a state Senate seat from the Hudson Valley — to denounce the remarks of Rabbi Noson Leiter. DiCarlo opposes gay marriage, and the orthodox rabbi made the statements in support of his third-party candidacy.
"It's simply incomprehensible that anyone could attribute the devastation and loss of life caused by Hurricane Sandy to divine retribution against the New York State legislature," Pataki railed.
Today, Governor Andrew Cuomo piled on:
"The comments made by Rabbi Noson Leiter that sought to link the devastation caused by Hurricane Sandy to our state's embrace of marriage equality are as offensive as they are ignorant. This catastrophic storm claimed the lives of more than forty New Yorkers. This kind of hateful rhetoric has no place in our public discourse, and is particularly distasteful in times of tragedy. Our state is proud to offer equal rights to all our citizens, and we will never tolerate the use of a tragedy like Hurricane Sandy to promote a divisive and bigoted agenda."
Listen to Leiter, AFTER THE JUMP…