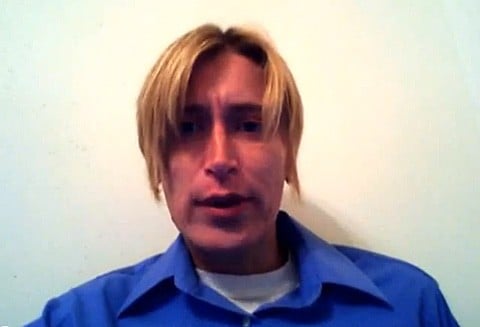 Despite overwhelming evidence to the contrary including the fact that she was identified buying the zip ties, gloves and box cutter used in the alleged attack by a clerk at Ace hardware, Nebraska lesbian Charlie Rogers continues to insist she was attacked, attacking Lincoln, Nebraska police for a botched investigation in a new video posted to YouTube this week.
Watch it, AFTER THE JUMP…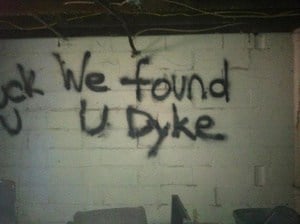 Rogers claimed in July that three men broke into her home, tied her up, carved 'dyke' into her stomach and then tried to set her home ablaze. They also allegedly painted slurs on her walls. Rogers reportedly crawled from her house, naked and bleeding and screaming for help before reaching the doorstep of a neighbor's home.
She was charged with faking a hate crime. There has been no plea agreement and the case is expected to go to trial.
Police Chief Jim Peschong challenged Rogers' accusations. Investigators worked the case hard, he said Tuesday. Police brought in an FBI agent to put an outside set of eyes on the case. The chief said investigators interviewed all the key players at least once, and several of them multiple times.
"We took this particular case seriously from the get-go," Peschong said. Investigators, he said, never found evidence to back up Rogers' story.
He declined to say exactly when investigators started to suspect Rogers lied, but said it was "awhile after" the alleged attack. "It was quite a bit later on, and then all of a sudden, things that she was telling us were not adding up," Peschong said. "We couldn't get anything to support some of her claims she was making."
Police said they found no sign of a struggle at Rogers' house, no blood on the bedspread where she said the men cut her and a forensic pathologist from the FBI determined that Rogers made the cuts herself or they were done with her permission, according to her arrest warrant.
Says Rogers in the video: "The perpetrators of my crime are still out there. They are. It wasn't me. I wouldn't say I did it then, and I won't say I did it now. I am innocent."
Watch, AFTER THE JUMP…