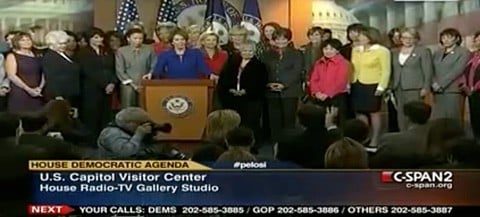 A question from NBC correspondent Luke Russert was met with boos and cries of  "age discrimination!" at Nancy Pelosi's press conference this morning announcing her decision to stay on as Minority Leader.
Asked Russert:
"Colleagues privately say that your decision to stay on prohibits the party from having a younger leadership and hurts the party in the long term. What's your response?"
Snapped Pelosi: "You've always asked that question, but not to Mitch McConnell."
Watch, AFTER THE JUMP…
The fact is that everything that I have done in my almost decade now of leadership is to elect younger and newer people to the Congress. In my own personal experience it was very important for me to elect young women. I came to Congress when my youngest child Alexandra was a senior in high school and practically on her way to college. I knew that my male colleagues had come when they were 30. They had a jump on me because they didn't have to, children to stay home. Now, I did what I wanted to do, I was blessed to have that opportunity to sequentially raise my family and then come to Congress. But I wanted women to be here in greater numbers at an earlier age so that their seniority would start to account much sooner. And it wasn't confined to women, though. […]
You've got to take off of that 14 years for me because I was home raising a family, getting the best experience of all in diplomacy, interpersonal skills. No, the answer is no.
Watch, AFTER THE JUMP…
Russert defended himself on Twitter: "While Pelosi laughed off my Q as age-ist, many House Ds will privately gripe it hurts caucus that all 3 leaders are 70+….The longer the top 3 stay, the longer it takes to infuse the caucus with new blood like #GOP did w Cantor, Ryan, McCarthy etc."