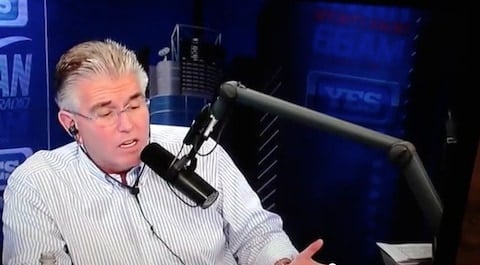 WFAN sports radio host Mike Francesa ripped NYC for hosting the NYC Marathon this Sunday:
"They're still going door to door in Staten Island trying to find out if there are dead bodies in the houses, and you're holding a marathon?…Now you want the streets to be littered with half-full water bottles from guys who are running in a marathon who are pouring it on their heads and throwing half-used bottles in the street and in Jersey they don't have any water! The governor's saying they don't have any clean water. Well come over here, they're throwing bottles in the street during the marathon you can pick it up. How much worse can it get?"
Watch Francesa's rant, AFTER THE JUMP…
Mayor Bloomberg says the race should go on and denies resources would be diverted:
Mayor Michael Bloomberg saw none of this as insurmountable and defended the decision to hold the race, insisting resources wouldn't be diverted from storm victims. He noted Thursday that electricity was expected to be restored to all of Manhattan by race day, freeing up "up an enormous number of police."
"This city is a city where we have to go on," he said.
One of several Facebook groups calling for cancelation of the Marathon now has more than 34,000 likes.
What do you think? Should the run go on?