1. Andrew Ahn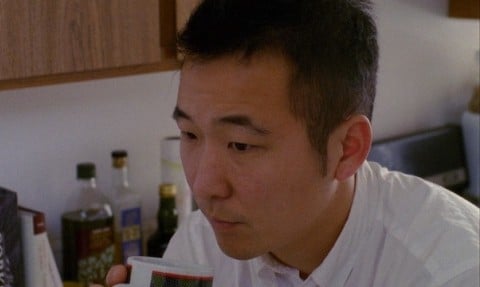 Filmmaker Andrew Ahn came out in grand, cinematic fashion. Too timid to tell his family himself, he made a short film, Dol, about a Korean-American man coming out to his own family, which was played by Ahn's own family. "I knew I wouldn't be able to tell them, to say the words 'I'm gay,' so I cast my family in the film, but never told them that it was about a gay Korean-American man. The filmmaking process both distracted from and prepared me for the inevitable – that I would eventually have to show my parents the finished film," Ahn said when Dol premiered at Sundance.
2. Gillian Anderson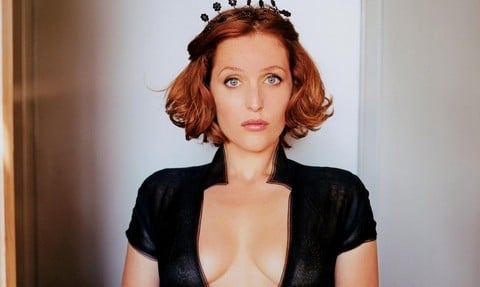 Already an icon for her years playing Agent Scully on The X-Files, Gillian Anderson further entrenched herself in LGBT culture in March of this year when she told Out magazine that she had a girlfriend "for a long time."
"I was in a relationship with a girl for a long time when I was in high school, and then I was in a relationship with a punk rock drug addict," she said. She later had a relationship with someone she described as "way, way older."
Later, Anderson wrote more personally of the relationship and explained she brought it up to honor the woman, who had recently died: "By discussing our relationship in Out, I felt like I was honoring her memory in some way simply by admitting its existence."
3. Paul Babeu
Paul Babeu's coming out may be one of the most sensational, and complicated, of the year. The fiercely conservative, anti-immigrant Republican Sheriff of Pinal County, Arizona, and a good friend of Maricopa County Sheriff Joe Arpaio, another extremely anti-immigrant law enforcer, Babeu was outed in February, when his undocumented Mexican immigrant boyfriend of a decade accused him of threatening him with deportation during a nasty break-up.
The day after the story broke, Babeu, then a surrogate for Mitt Romney's campaign, officially acknowledged his sexuality but denied the charges. Two days later, he told CNN he "goes all Ron Paul" when it comes to marriage and later, in May, told openly gay journalist Don Lemon he wants to provide a bridge between the GOP and LGBT communities. He later won reelection as Sheriff of Maricopa County Pinal County.
4. Matt Bomer
If Paul Babeu's outing is one of the more malodorous, actor Matt Bomer's 2012 coming out tale is one of most ambrosial: the exceptionally handsome White Collar actor broke his glass closet during an acceptance speech, thanking his partner and children, "And I'd really especially like to thank my beautiful family: Simon, Kit, Walker, Henry. Thank you for teaching me what unconditional love is. You will always be my proudest accomplishment."
Countless gay guys' dreams came true, and Bomer gave them more of what they wanted when he starred alongside Channing Tatum, Joe Manganiello and Matthew McConaughey in Magic Mike. If 2012 proves anything, it's that coming out has become insouciant and informal than ever before.
5. Thomas "Bozzy" Bosworth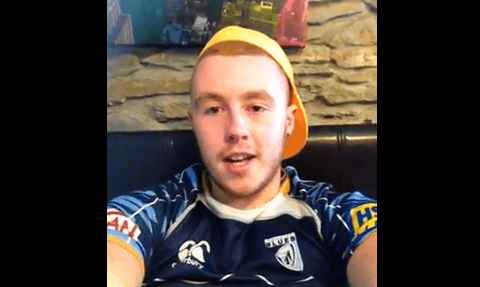 Thomas "Bozzy" Bosworth isn't an actor or a famous journalist or a singer, but his coming out made a splash none-the-less. In an effort to combat homophobia in sport, the 18-year old rugby player from Wales posted on Facebook an essay about telling his teammates and his mum that he's gay.
"To clear all the gossip up and sh*t that has been going around about me. Yes I am gay and I never choose this and it's the hardest thing Iv [sic] ever had to deal with in my life," he wrote matter-of-factly. He later posted a YouTube video about his experience that went, as kids like Bosworth might say, "viral."
6. Anne Burrell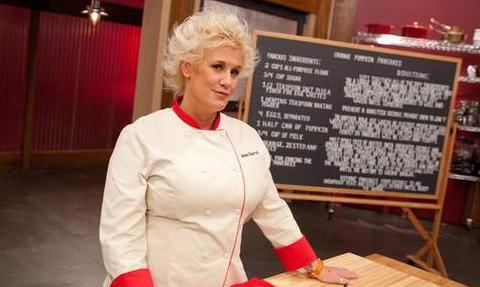 Apparently Food Network celebrity chef Anne Burrell is out and proud, but no one knew because, well, it just never came up. That is until Chopped host Ted Allen mentioned it during a radio interview, "I'm not going to put a label on Anne, but she is dating a woman right now. She was really cool. You've got some competition."
Her publicist later felt compelled to tell the New York Post's Page Six, "Anne doesn't feel she was outed. She has made no secret of her relationship. Her significant other is a very private woman. They have been together for a couple of years and spend a lot of time together. It is no secret in the culinary world."
7. Sam Champion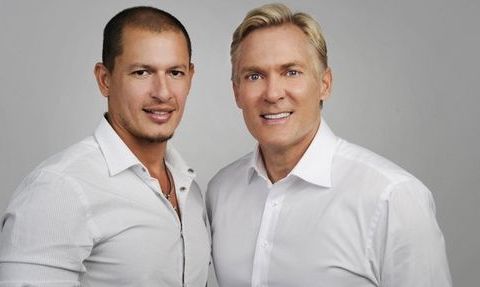 Long out and about in New York City's gay scene, ABC News meteorologist Sam Champion (right) officially came out in October by announcing he planned to marry partner Rubem Robierb.
Those in the know may have shrugged, but Champion's the weatherman for Good Morning America, the number one morning show, and his coming out without a doubt changed some people's minds about gay people. And it certainly made him the toast of the town: Champion recalled all the well-wishes he received from across the country and in the Big Apple.
"I felt like we lived in a small town," he said of all the well-wishing. "I was born in Paducah, Kentucky, and to me that's exactly what it felt like. We walked out on the street and everyone was like, 'Hey, congratulations.'"
8. Cheryl Chow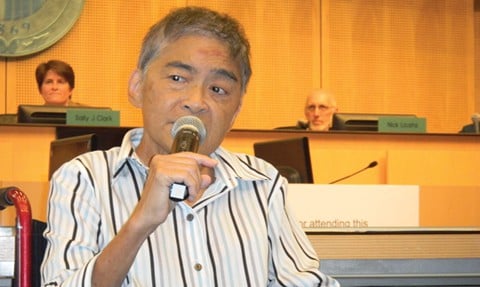 Former Seattle councilwoman Cheryl Chow's coming out can only be described as heart-breaking. The 66-year old finally decided to say she's gay because she's dying of brain cancer and now regrets all those years in the closet.
"Parents and kids, don't be afraid of saying that you're gay. I was afraid for over 60 years and those 60 years were wasted," said Chow, who explained she never came out because she didn't want to disappoint her mother, restaurateur and fellow politician Ruby Chow. "If I can save one child from feeling bad or even committing suicide because they felt terrible because they were gay, then I would have succeeded in my last crusade."
9. Anderson Cooper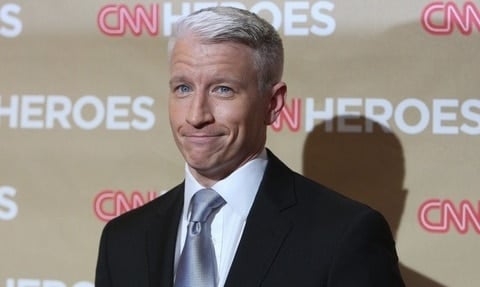 "The fact is, I'm gay." So said CNN journalist Anderson Cooper in an email to friend Andrew Sullivan, thus confirming one of the most widely-speculated and assumed rumors in the history of the closet.
Cooper went on to explain that he kept his private life private because of his work in violent regions — "For my safety and the safety of those I work with, I try to blend in as much as possible, and prefer to stick to my job of telling other people's stories, and not my own." — but felt it was time to come clean.
"I still consider myself a reserved person and I hope this doesn't mean an end to a small amount of personal space. But I do think visibility is important, more important than preserving my reporter's shield of privacy."
And a glass closet shattered.
10. Orlando Cruz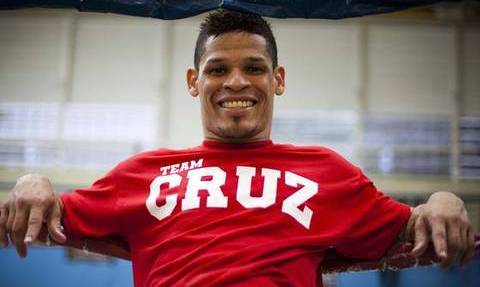 Professional boxer Orlando Cruz helped KO homophobia in the ring when he came out in early October. "I've been fighting for more than 24 years and as I continue my ascendant career, I want to be true to myself," the featherweight fighter told a reporter.
Later, speaking with HBO, Cruz remarked, "I'm very, very happy. I'm free." He's also a champ: the 31-year old won his first fight after coming out, but was more pleased with all the support he received from the cheering crowd: I was very happy that they respect me. That's what I want — them to see me as a boxer, as an athlete and as a man in every sense of the word… That was my moment, my opportunity, my event… And I won."
11. Wade Davis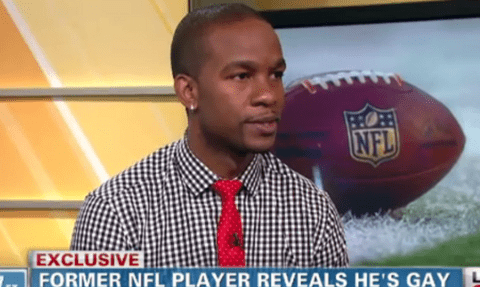 "You just want to be one of the guys, and you don't want to lose that sense of family," former NFL player Wade Davis said about staying in the closet during his time on the field.
His career-ending injuries, he recalled, were something of a blessing. "There was a part of me that was a little relieved because, when I knew football was over, my life would begin. I had this football life, but I didn't have another life away from that. Most of the guys had a family and a wife, but I had football and nothing else."
Since coming out in June, Davis worked as an LGBT surrogate for President Obama's reelection campaign and joined GLSEN's sport advisory board.
12. Josh Dixon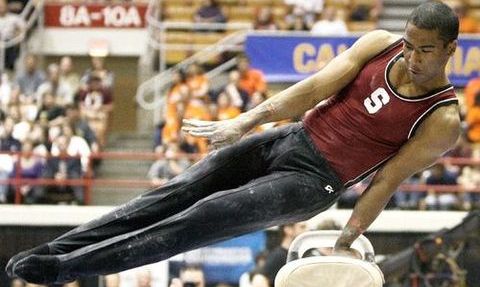 Josh Dixon just missed qualifying for the United States' Olympic men's gymnastics team, but he totally landed his coming out, reported by Outsports just before trials.
"If anything, the only homophobia he has encountered has been from within himself. He acknowledges he once felt internal pressure about being a gay man in what some label the "gay sport" of gymnastics. He didn't want to fall into a stereotype," Cyd Zeigler Jr. wrote.
13. Stephan Elliott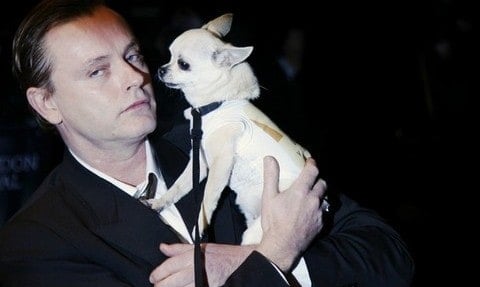 Few people were shocked when Stephan Elliott, director of gay cinematic touchstone Priscilla Queen of the Desert, stepped out from the closet at the Australian Academy of Cinema and Television Arts (AACTA) Awards, but it was still a monumental moment for the man himself.
"I've been offshore for many, many years for another reason," he said. "Basically it was because I was scared of who I was. I basically was scared that I was gay. Even after Priscilla I stayed offshore basically because I was frightened of my family. And tonight I'm coming out." Beautiful.
14. Rep. Mike Fleck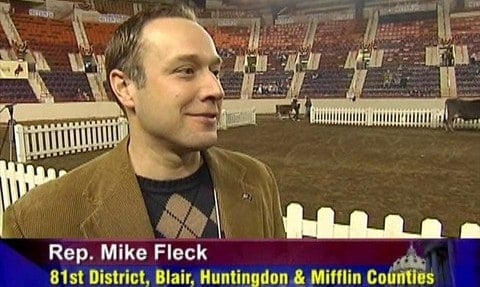 Pennsylvania State Rep. Mike Fleck told constituents earlier this month he'll continue fighting for conservative causes even though he's gay.
"I'm still the exact same person and I'm still a Republican and, most importantly, I'm still a person of faith trying to live life as a servant of God and the public. The only difference now is that I will also be doing so as honestly as I know how," said the Republican who divorced his wife before telling the world the truth about his sexuality. But she remains his best-friend, he said.
15. Todd Glass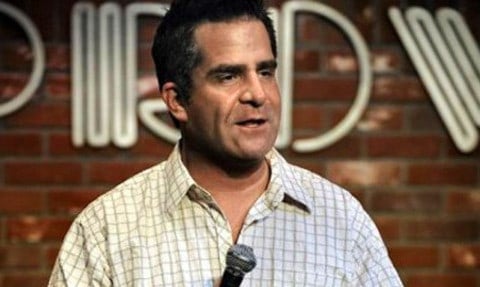 Todd Glass has one of the most stressful jobs around: he's a comedian. But that doesn't mean he didn't have stage fright about coming out on Marc Maron's 'WTF' podcast. "I have a very hard time saying that," he said, when prompted to say "I'm gay."
He went on, "And don't get this wrong. I don't want anyone to be ashamed of who they are—especially younger people. I always hated using that term and that's partly why I've always been sympathetic to people who don't [want to be labeled certain things]. I hate that word. But I like it better than the other word—homosexual."
16. Janee Harteau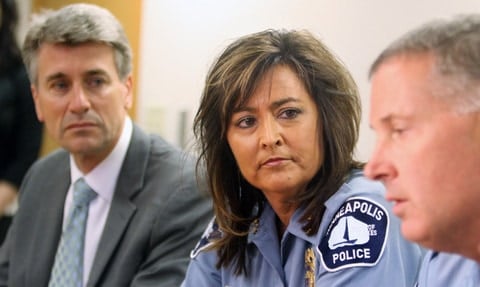 Copper Janee Harteau was out in her hometown of Minneapolis, but her ascent to chief of that catapulted her into the national spotlight: in addition to being Minneapolis' first female police chief, she's the first openly gay official to hold the position.
And she says she has her partner to thank for her success, as well all the others who supported her throughout the years. "Thank you to my life-partner and better half, Holly. And for those of you who know us both, she's truly the better half," she said at the swearing in ceremony.
17. Sherman Hemsley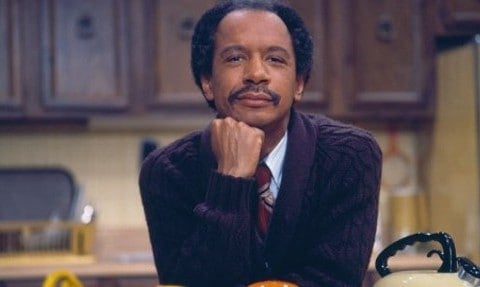 Sherman Hemsley, the actor famous for his role as George Jefferson on All in the Family and The Jeffersons, never came out in life. He was a quiet, private man and most of the public never would have known he was gay save for a dispute over his will that involved a "male companion," Kenny Johnston. But even after speculation began swirling, only a few people would speak the truth, like Michael Musto, who ran a post at the Village Voice, "Sherman Hemsley Was A Gay! Deal With It!"
18. Jaymi Hensley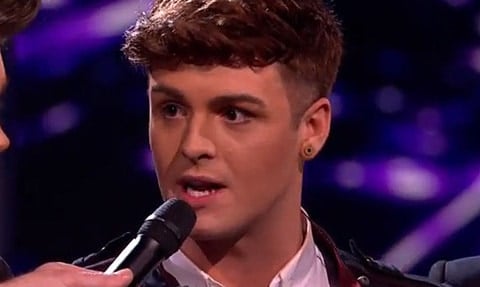 Only a few short years ago boy bander Jaymi Hensley would have been pressured to stay in the closet. But when he came out in November, Hensley, part of the UK X Factor band Union J, said his mentor on the show, entertainment manager Louis Walsh, encourage him to be honest.
"I spoke to Louis about this and he said, 'put it this way, both of my big boy bands had a gay member in them.' So he said it fits the formula quite well! Every boy band has got to have a gay one! And Louis just said 'do it'. I'm gay and I've never been happier!"
That's something to sing about.
19. Denise Ho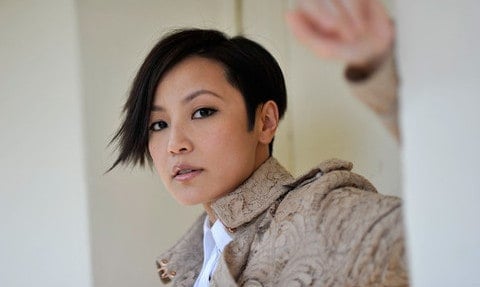 Cantopop singer Denise Ho caused a sensation in Hong Kong when she revealed last month that, yes, she is a lesbian.
"For many years, when I faced questions from the media, I always felt that sexual orientation is a personal matter, that there is no need to label yourself or tell the public," she said. "But in 2012 when one would expect more acceptance and progress (in terms of gay equality), I find that there is still discrimination and prejudice. I feel that silence is no longer an option," she said.
No doubt international music fans' ears perked up and Ho found herself a new audience as a bonus.
20. Duncan Hosie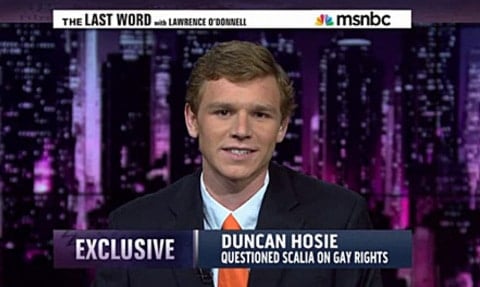 The most recent person to come out with a splash, Princeton University student Duncan Hosie took Antonin Scalia to task when, only one month after coming out, he asked the Supreme Court Justice to defend his comparison of marriage equality and bestiality.
And already he's proving himself to be a well-spoken leader: after the Scalia incident, Hosie told MSNBC's Lawrence O'Donnell, " I don't think [Scalia's] response was accurate…I think his response was absurd in many aspects."
21. Karen Hultzer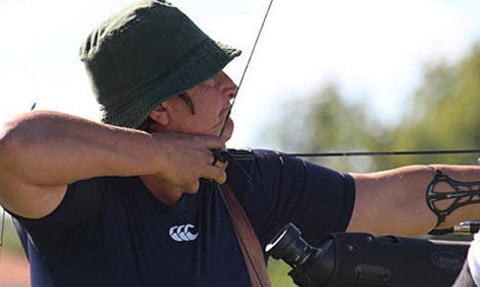 South African Olympic Archer Karen Hultzer's blunt coming out was wonderfully cavalier. "I am an archer, middle aged and a lesbian," she said during the 2012 Olympics in London. But she didn't stop there: "I am also cranky before my first cup of coffee. None of these aspects define who I am, they are simply part of me."
She also used the opportunity to highlight the plight of her home country's black lesbians, who are regularly beaten and raped to "cure" them of their homosexuality.
"I am fortunate that my sexual identity is not an issue, and I don't suffer the level of discrimination and violence that black lesbians in South Africa do," said Hultzer. "I look forward to the day when this is a non-issue and as relevant as my eye color or favorite sushi."
22. Paul Iacono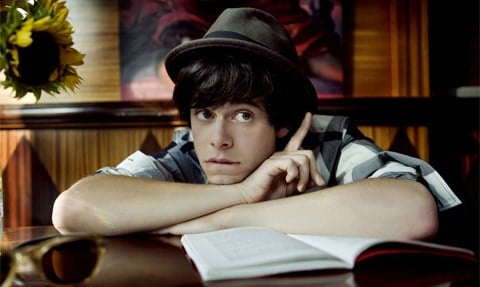 Actor Paul Iacono is a prime example of how being gay no longer prohibits a career. Famous for his role on MTV's The Hard Times of RJ Berger, the 23-year old opened his closet during an interview with Michael Musto in April.
"I think it's the right time to say something," Iacono told the reporter during a discussion about his new show Kenzie's Scale, about a couple's gay awakening in New York. "The whole reason we came up with Kenzie's Scale is to give young gays characters to look up to." Mission accomplished.
23. Drake Jensen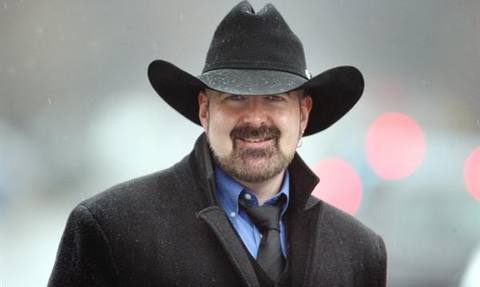 Canadian country singer Drake Jensen gave cowboys something to sing about when he pushed down his closet door in February. They were forced to hold their horses, though, because Jensen also revealed he has a husband, who appeared in the music video for Jensen's single "On My Way to Finding You," a video dedicated to Jamie Hubley, an Ottawa gay teen who committed suicide after being bullied.
"As a child I always knew there was something different about me above and beyond the gay thing. Even during the worst of the bullying I always felt I would make it through," he explained. "I have been so lucky to be given so much, I have no choice but to give back. I give back through my music and through my story. I'm a homosexual musician telling my story through songs and spreading the message of love. In a perfect world, what could be wrong with that?"
24. Joanna Johnson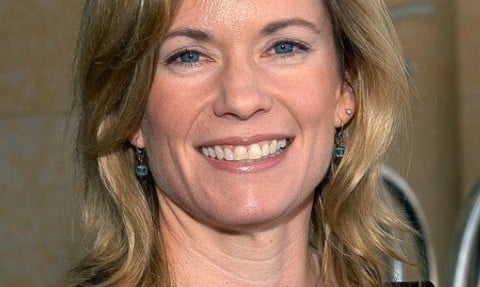 There was no amnesia or evil twin when soap opera actress Joanna Johnson came out and said she's a lesbian in May. It was all her, finally being honest with the millions of people who watched her for 24 years on the wildly popular soap The Bold and The Beautiful.
"Daytime is a whole different world than primetime or theater or film. There's a greater intimacy between the viewers and the characters. They think you are your character," she said of her years in the closet. "That creates a lot of fear. Fear of rejection. I was so worried I wouldn't be employable as an actress if people knew I was a lesbian. Or that I wouldn't be believable in romance stories. I had to deal with a lot of self-loathing."
But now that she's being honest with herself and the public, Johnson's happy to announce that she's married a club promoter named Michelle Agnew and that they have two children, a setting far more stable than the world of B&B.
25. Mallow610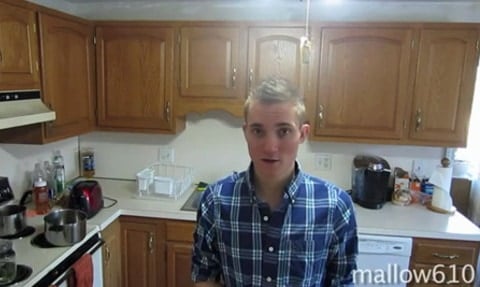 Technology has without a doubt helped spread the equality message, and provided a vehicle for more than a few coming out tales this year, like YouTube user Mallow610. He posted "I'm Gay" moment on the internet, making him and his mother viral sensations – and provided a great example of how important parental acceptance is in the process.
26. Kevin McClatchy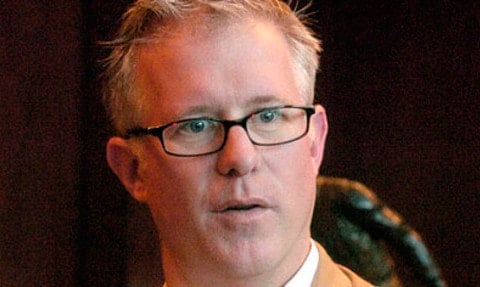 Kevin McClatchy, scion to the McClatchy newspaper family and former owner of the Pittsburgh Pirates, said it was his impending birthday more than anything else that spurred him to come out of the closet.
"I've got a birthday coming up where I'm turning old," he joked to The New York Times' Frank Bruni, referencing his 50th birthday coming up in January. "I've spent 30 years — or whatever the number is specifically — not talking about my personal life, lying about my personal life."
Like many of the other athletically-minded people who came out this year, McClatchy hopes his honesty will help inspire players of the various comes to do so, too. "You're not going to solve any problem until you start a dialogue. And there's no dialogue right now."
27. Kristy McNichol: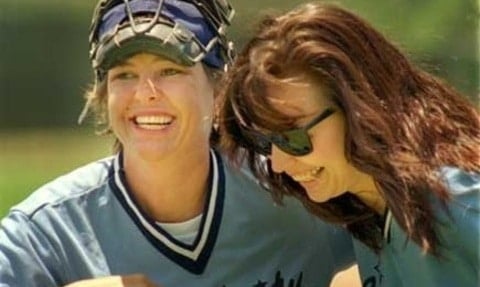 Like Kevin McClatchy, actress Kristy McNichol (left) cited an impending 50th as inspiration for coming out, but she also pointed to anti-gay bullying in grade schools "She hopes that coming out can help kids who need support. She would like to help others who feel different," said her publicist.
McNichol, whom readers may remember from her roles on Family and Empty Nest, currently lives with her partner of 20 years, Martie Allen.
28. Ezra Miller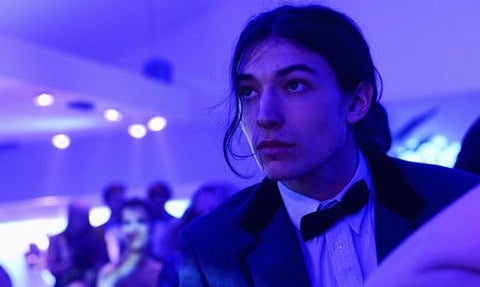 Ezra Miller had a banner year, and one of those banners read "queer pride". The 20-year old actor from We Need To Talk About Kevin, co-starring Tilda Swinton, and potential Oscar-recipient The Perks of Being a Wallflower told Out magazine in August, "I'm queer."
And he said he too had faced bullying in school. "[Bullying] does come with the territory of being a lesbian/gay/bi/queer/trans person in the public school system," Miller said. "That's been getting a little bit better, for parts of that spectrum, but not really. How far have we really come? I'm not sure. That's up for debate."
29. Frank Ocean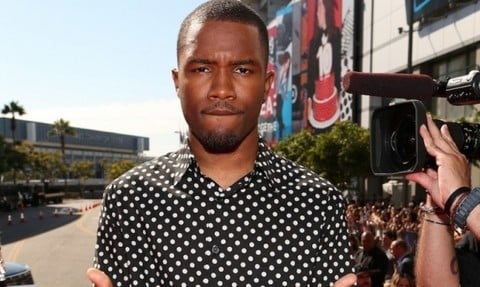 Musician and producer Frank Ocean has remained purposively mum about his sexuality, preferring to let his sensational debut solo, channel ORANGE, do the talking.
"People should pay attention to that in the letter: I didn't need to label it for it to have impact. Because people realize everything that I say is so relatable, because when you're talking about romantic love, both sides in all scenarios feel the same shit," he told GQ in November, four months after coming out in an open letter.
Some have criticized the Grammy-nominated music maker for his reticence to adopt labels, but Ocean's quiet pride matches the tectonic though understated shift he produced in the hip-hop music community, a genre where homophobic often thrives. Though there were some haters, aural idols from Snoop Dogg to Beyonce to Dr. Dre celebrated Ocean's honesty, and fans did too.
30. Mitch from 'ParaNorman'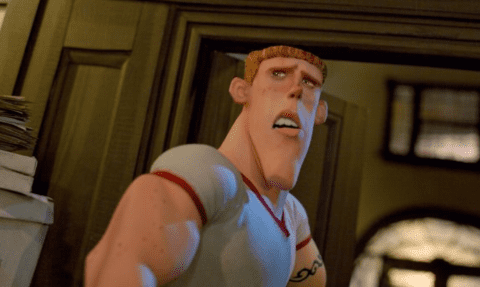 Conservatives blew a gasket when it was revealed that Focus Features's stop-motion movie ParaNorman features a gay character named Mitch, a jock.
"It's a time-honored technique of the gay community to hide the fact that a character is gay until the audience has developed a real affinity for him/her, then catch the audience off-guard by divulging that the character is gay," wrote William Bigelow at conservative site Breitbart. Nancy French at the National Review warned parents to avoid the family flick.
Writer/director Chris Butler ignored the backlash and later told The Advocate "it was important to us" to feature an out character. "We were telling a story that was fundamentally about intolerance. We believed that it was important to have the strength of our convictions," he said.
31.  Jim Parsons
Big Bang Theory actor Jim Parsons' coming out was a non-event, but in the best way possible. It came up casually during an interview with the New York Times, when Parsons was talking about his role in the AIDS drama The Normal Heart.
"The Normal Heart resonated with him on a few levels: Mr. Parsons is gay and in a 10-year relationship, and working with an ensemble again onstage was like nourishment," Patrick Healy wrote.
Again, undeniable proof that gay actors no longer have to worry about endangering a hot career by talking about their homosexuality. Conclusion: we truly live in a post-Ellen world, and it's wonderful.
32. Mika Penniman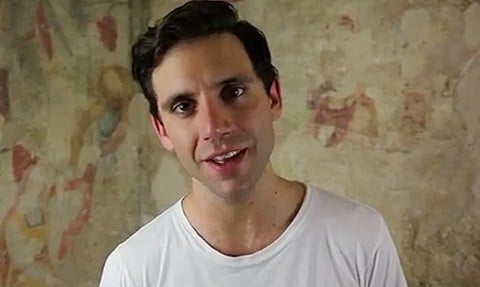 Rumored to be one of the boys in the band since his 2007 debut album, Life in Cartoon Motion, singer Mika finally stepped out of the closet in August, right after the release of his third album, The Origin of Love.
"If you ask me am I gay, I say yeah. Are these songs about my relationship with a man? I say yeah. And it's only through my music that I've found the strength to come to terms with my sexuality beyond the context of just my lyrics. This is my real life," he told Instinct magazine.
33. Don Philip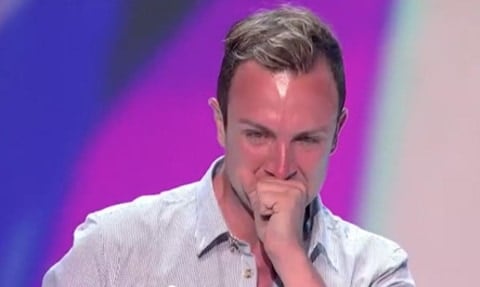 We may never had heard of X Factor contestant Don Philip had it not been for the power of the internet. At his audition, he tearfully explained to Britney Spears, with whom he worked a decade ago (on the track "I Will Still Love You" from the Baby One More Time album), that he felt his homosexuality created a barrier between them. She assured him that was not at all the case, and the two shared a moment, a moment Fox edited out, even after Philip says they pressured him to do it.
It was a complicated scenario, one that provided both catharsis and a look at how coming out can be used in popular culture.
34. Rosie Pierri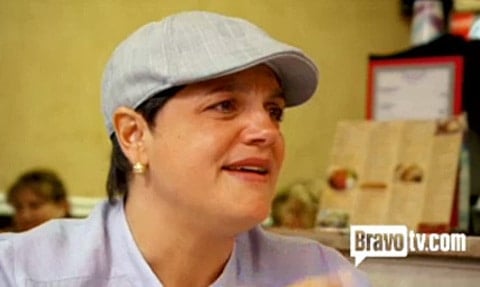 True to media form, Rosie Pierri, sister to Real Housewives of New Jersey's Kathy Walkie, became a real-life star after she came out on an episode of the Bravo hit.
Speaking with the Huffington Post's Sydney Levin after the episode aired, and her name was household, Pierri spoke frankly about how her shame and the closet had held her back. "[My mother] saw me struggle but she didn't know what I was struggling with because I had a lot of friends, I excelled in most things that I did … She saw me struggling and didn't know why I was so unhappy."
Pierri's coming out was a poignant moment for a show based on in-fighting and back-stabbing, and sent the right message. Rest assured Rosie hasn't gone soft: she threatened to rip off Teresa Giudice's head during a reunion special.
35. Andrew Rannells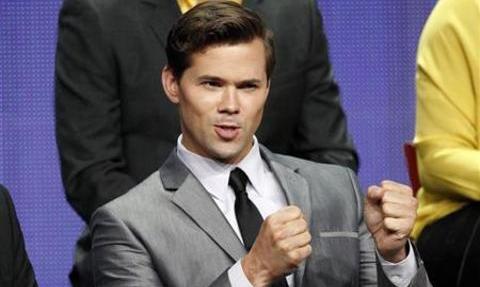 "I am gay in real life, so I definitely get it," actor Andrew Rannells said about his newly out character Elisha on HBO's Girls.
It was the first time Rannells, who was nominated for a Tony for his Broadway turn in The Book of Mormon and also plays gay on NBC's The New Normal. But Rannells also noted that he was never really closeted, not like Elijah. And now that he's playing gay again on The New Normal, Rannells feels a need to be louder and prouder and more responsible than ever, "With The New Normal, I feel even a larger responsibility because it's sort of a new idea for a lot of viewers and Americans, to see Justin Bartha and I play this very much in love couple who just wants to have a baby. We're telling that story for the first time, in a way, for a lot of people, so I think there's a lot of responsibility there."
Rannells is handling it nicely.
36.  Megan Rapinoe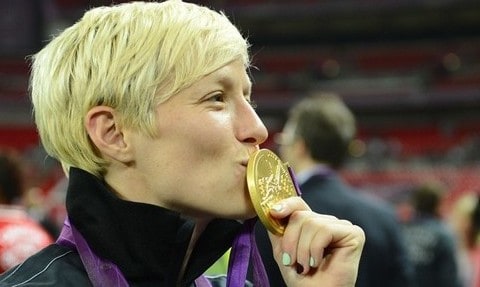 Players on the pitch knew for years that Olympic gold medalist soccer player Megan Rapinoe like ladies, but she didn't speak about it publicly until over the summer.
"I feel like sports in general are still homophobic, in the sense that not a lot of people are out," she told Out magazine. "I feel everyone is really craving [for] people to come out. People want — they need — to see that there are people like me playing soccer for the good ol' U.S. of A."
After winning gold at the Summer Olympics, and resting up a bit, Rapinoe returned to the spotlight to receive the L.A. Gay & Lesbian Center's Board of Directors Award, and said she's proud of how her coming out helped others: "People come up to me and say, 'you're the reason I came out, you're the reason I realized I was gay."
Even in the post-Ellen world, coming out can make an impact.
37. Sally Ride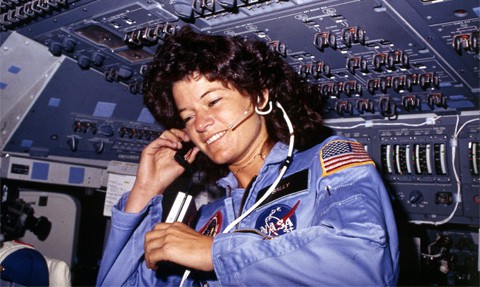 Before her July death, astronaut Sally Ride, the first American woman in space, lived for nearly three decades with partner Tam O'Shaughnessy. But we wouldn't have known it had it not been for Ride's obituary, which casually mentioned Tam in passing.
After the L-word spread, Ride's sister, Bear Ride, told BuzzFeed Sally tried to eschew labels, and was a "fundamentally" private person: "Sally didn't use labels. Sally had a very fundamental sense of privacy, it was just her nature."
38. Aaron Rogers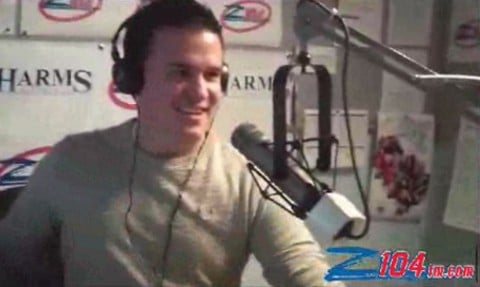 Radio DJ Aaron Rogers made good use of this year's National Coming Out Day by coming out on air and telling listeners of his Madison, Wisconsin, Z-104 channel, "For anyone listening right now, know that you are not alone and that it's okay to feel the way that you do. Life is very short. Know that  you are loved, appreciated, and respected by more people than you realize. It really does get better, and you have my support always."
39. Benji Schwimmer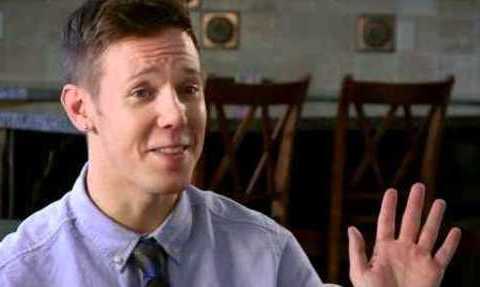 A familiar face for winning So You Think You Can Dance, Benji Schwimmer put a new spin on coming out by discussing his sexuality in the context of his Mormon faith — and he took five hours to do it.
40. Alan Scott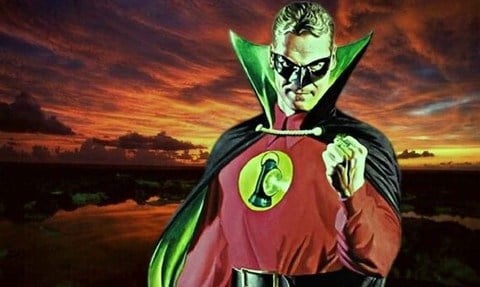 DC Comics said early on they planned on including a gay character in their relaunched titles, but few suspected they would do so by tweaking original Green Lantern Alan Scott's origin story to include same-sex love. Sadly, Scott doesn't get to enjoy that love: right before he proposes to his boyfriend, their train derails and he is killed.
It's this tragedy that transforms Scott into the Green Lantern, turning him into a vengeful man many readers hardly recognize.
41. Omar Sharif Jr.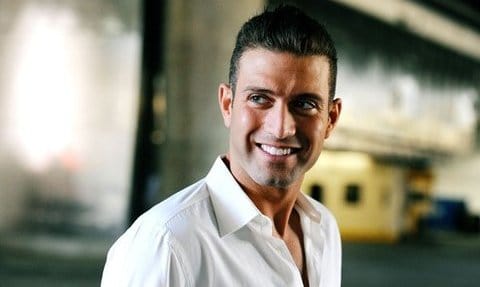 "I am Egyptian, I am half Jewish and I am gay," Omar Sharif Jr, named after his equally handsome actor grandfather, told The Advocate in March, the first time Sharif, famous in his own right and previously a supporter of equality, had spoken publicly about his private sex life.
And he was well aware of potential backlash in his homeland. "And being openly gay has always meant asking for trouble, but perhaps especially during this time of political and social upheaval. With the victories of several Islamist parties in recent elections, a conversation needs to be had and certain questions need to be raised. I ask myself: Am I welcome in the new Egypt?"
42. Nate Silver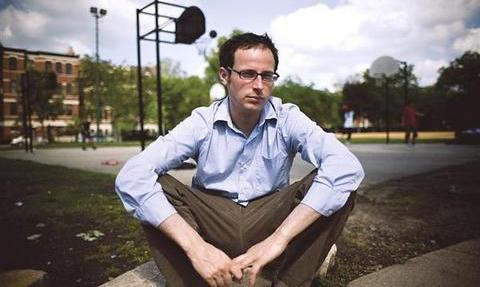 Statistician Nate Silver had never really been in the closet, but his sexuality also didn't become a popular topic until during the 2012 election, when Silver was more famous than before, and the right was taking aim at the hero of the left: Dean Chambers at UnSkewedPolls tried to smear Silver, describing him thusly, "[Silver is] a man of very small stature" and "a thin and effeminate man with a soft-sounding voice".
Silver let the insult roll off his back, tweeting, "Unskewedpolls argument: Nate Silver seems kinda gay + ??? = Romney landslide!"
It was also this year that Silver spoke about his sexuality, telling The Observer, "I've always felt like something of an outsider. I've always had friends, but I've always come from an outside point of view. I think that's important. If you grow up gay, or in a household that's agnostic, when most people are religious, then from the get-go, you are saying that there are things that the majority of society believes that I don't believe."
43. Tammy Smith
August 10 was a day of change for Tammy Smith. It was on that day that the Army Reserve officer of more than 25-years was promoted to Brigadier General. And it was also on that day that Smith came out of the closet, making her the highest ranking out military figure. It wasn't just a win for LGBT rights, but for women, as well.
From Outserve's report: "In Smith's speech, she spoke about "standing on the shoulders of giants," women in the military who'd broken barriers, who'd been "firsts," who'd "broken glass ceilings but got scratched in the process."
44. Jason Somerville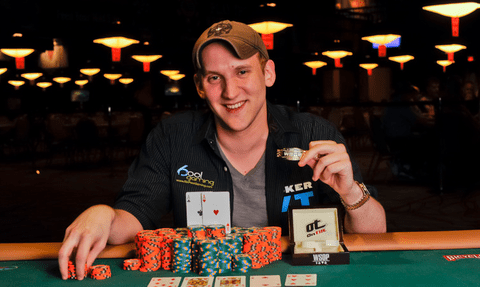 Professional poker player Jason Somerville took a bet on love on Valentine's Day by coming out of the closet, becoming the first male pro player to come out.
"I've struggled with how to discuss this, with how to balance my desire for privacy with the fact that I do want to be myself publicly – and the fact that I think it's overdue for a guy to be open about it in poker," Somerville wrote in a lengthy but definitely read-worthy blog post making his announcement.
45. Magda Szubanski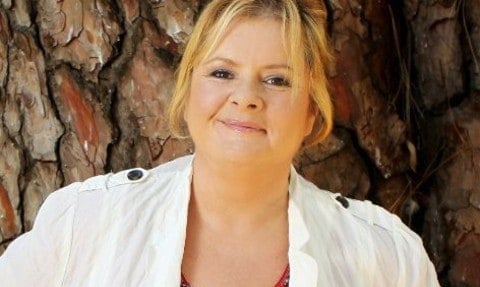 Australian actress Magda Szubanski definitely got her point across when she came out in February. She said it six times in a row during a sit down on Channel Ten's The Project.
"Let me just define my terms here – I identify as gay myself…Now when I say that, what that means is I am absolutely not straight. I wouldn't define myself as bisexual either. I would say I am gay, gay, gay, gay, gay."
Though Szubanski tried to keep it light, the Kath & Kim actress got emotional while discussing anti-gay discrimination and, later, about her own battle with suicidal thoughts during her teen years.
Asked if she related to teens who took their own lives because of homophobic bullying, Szubanski said, "Oh yes, yeah, absolutely. Oh my god, I know how those kids [who struggle with their sexuality] feel. Believe me."
46. Shaun T.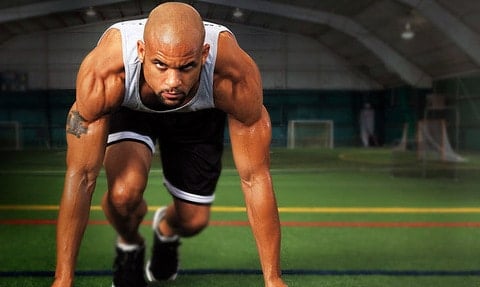 It was a year of contradictions for fitness guru Shaun T. Failed president candidate Paul Ryan, a Congressman with a staunchly anti-gay record, credited Shaun's "Insanity" workout regimen for his chiseled physique just before Shaun T. announced that he had married partner Scott Blokker. Both were good news for Shaun T, but one has to wonder what Ryan had to say about the news.
47. Lee "Uncle Poodle" Thompson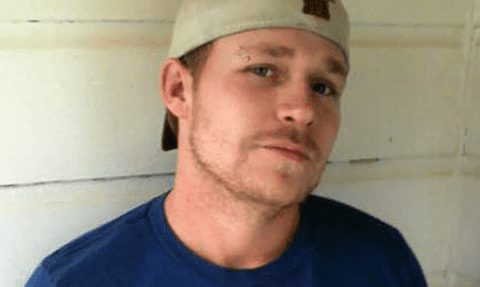 Say what you will about the ethics and aesthetics of Here Comes Honey Boo Boo, a reality program about seven-year old beauty contestant Alana Thompson and her family, but the TLC show proves that gay people comes in all shapes and sizes and can be found anywhere, even in McIntyre, Georgia.
Alana's Uncle Lee, affectionally called "Uncle Poodle," became a breakout star after appearing, open, out and proud, alongside his supportive family. And like Rosie Pierri, Thompson keeps his sexual philosophy real: "I'm gay, but I'm as redneck as I can get. If you want people to accept you, you have to show you don't have a problem with yourself and just be up front about who you are. If you do, you earn people's respect."
48. Lana Wachowski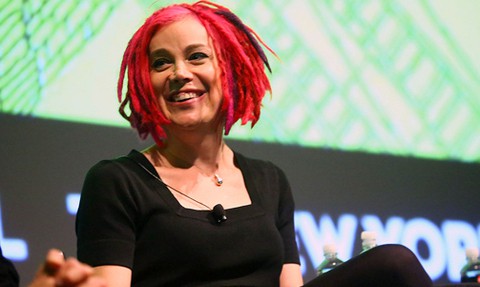 There's a dearth of transgender people in popular culture, which is why Cloud Atlas and Matrix co-director Lana Wachowski's candid approach to her own transition was such a monumental moment in LGBT progress.
In October, after delivering a rousing speech about her experience at HRC's gala, Wachowski spoke with The Hollywood Reporter about her life leading up "this moment" of transition. "I wasn't talking so much about myself," she said. "I was thinking about someone who was like me when I was young, feeling that I was fulfilling the example that I was looking for when I was young."
49. Josh Weed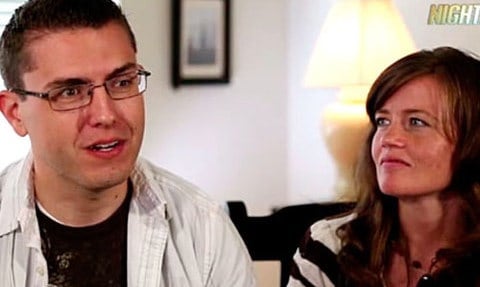 Professional marriage therapist Josh Weed turned coming out on its head when he told the world he's gay, married to a woman and that they have a "robust" sex life. And, yes, his wife knows he's gay, and she's cool with it. "I am attracted sexually to men. Period," the practicing Mormon wrote before explaining his theory on why he and wife Lolly get it on so well: "Basically when sex is done right, at its deepest level it is about intimacy. It is about one human being connecting with another human being they love."
50. JoCasta Zamarripa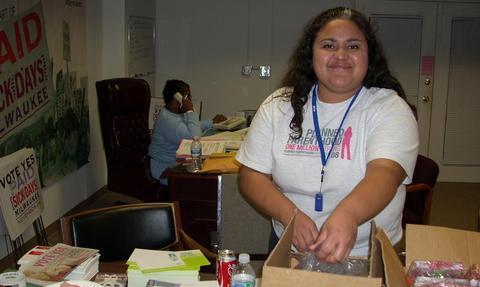 Wisconsin State Rep. JoCasta Zamarripa also helped elevate the B in LGBT this year when she came out as bisexual. And it was all in the name of full transparency, said the Democrat "It has always been my goal in office to be transparent and honest with my constituents. But before the primary in 2010, I didn't have the valor and courage to come out. I feel remiss that I didn't come out then."
Whose coming out most touched you in 2012? Please tweet us @TLRD.