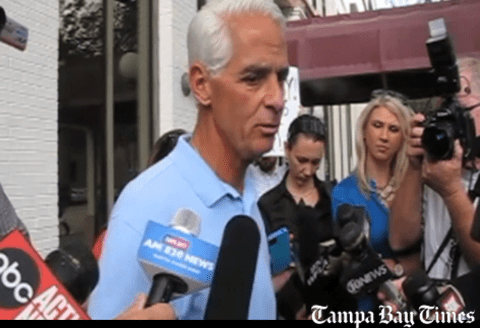 Former Republican Florida Gov. Charlie Crist today filed the paperwork officially making him a Democrat, a party switch Crist announced after a holiday party at the White House last weekend.
Speaking with the reporters who turned out for the event, Crist was asked about his decision in 2006 to sign a petition pushing for a constitutional amendment prohibiting same-sex marriage in The Sunshine State.
"Would I do it today? No," Crist said, according to the Tampa Bay Times. "I think the best way to judge where my heart is is to look at the deeds that I have done, whether as attorney general, governor – restoration of rights, civil rights cases, things of that nature that I think show a compassionate heart and hopefully someone who cares and knows who the boss is – and the boss is the people of Florida."
Crist also said he signed up with the Democrats because "they care"; "they're compassionate," he said, contrasting them with Florida's current governor, Rick Scott.
Watch video of Crist discussing his marriage equality position, whether anyone in the Obama administration has encouraged him to run for governor again (yes) and his place in the political world today AFTER THE JUMP.