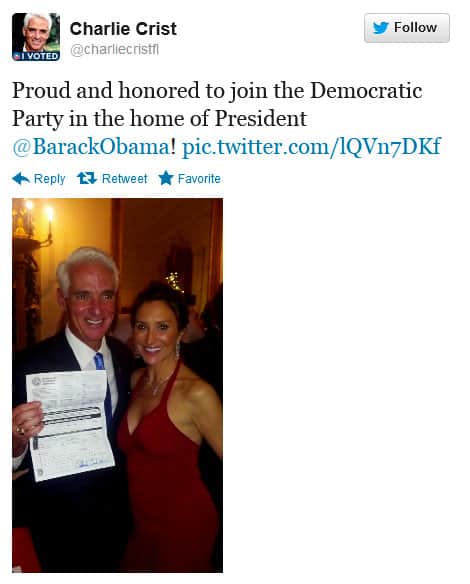 "I've had friends for years tell me, 'You know Charlie, you're a Democrat and you don't know it," so said former Florida Gov. Charlie Crist last night after leaving a holiday party at the White House, where he finally, after dipping his toes into the water as an Obama-supporting "independent" for a few years, registered as a Democrat. And according to Crist, it's the party's fault he left in the first place.
"What changed is the leadership of the Republican Party," Crist said. "As I said at the convention, I didn't leave the Republican Party, it left me. Whether the issue was immigration, or education, or you name it — the environment. I feel at home now."
President Obama clearly approves: he reportedly congratulated Crist with a fist bump, which in Democratic circles is as good as being knighted, but doesn't necessarily guarantee Crist a spot at the head of the line for another gubernatorial run.
From the Tampa Bay Times:
Other prospective candidates include former chief financial officer and 2010 gubernatorial nominee Alex Sink, Orlando Mayor Buddy Dyer, state Sen. Nan Rich of Weston and former Miami-Dade Commissioner Jimmy Morales.

"Crist was an absolute warrior for President Obama and as a result, many of the party activists I talk to are willing to welcome him with open arms, and there is no question he is an extremely viable candidate for governor, though I don't think that beating Alex Sink in a primary is any kind of sure thing," said Democratic strategist Steve Schale, who worked on Sink's campaign as well as both of Obama's Florida campaigns.
Sink says Crist's move has not influenced her decision whether or not to run.
[Crist's Twitter image via JMG]