Iconic West Village gay bar Julius has just been named eligible for State and National Historic registers, the Greenwich Village Society for Historic Preservation reports: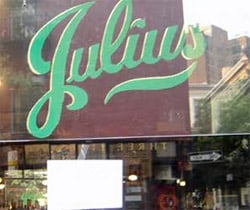 Based upon research and a request made by GVSHP, the New York State Historic Preservation Office has determined Julius' Bar at 159 West 10th Street/188 Waverly Place in Greenwich Village eligible for the State and National Registers of Historic Places (read GVSHP's nomination HERE, and the State's finding HERE). The oldest gay bar in New York, Julius' was also the site of a groundbreaking gay civil rights action in 1966 which resulted in the end of New York State's prohibition on serving alcohol to anyone known to be gay. The "sip-in," in which several members of a gay civil rights organization known as the Mattachine Society went to the bar identifying themselves as 'homosexuals' and asked to be served a drink, was based upon the "sit-ins" being staged at segregated lunch counters throughout the South, and was one of the first recorded instances of civil disobedience against anti-gay discrimination. At the time, the New York Times covered the incident referring to the protesters as "sexual deviates."
The State and National Registers of Historic Places are the official record of the places most important to our state and nation's history, as defined by New York State and Federal government. Currently, only two places in the entire country are listed on the State and National Registers of Historic Places for their connection to the gay civil rights movement — the Stonewall Inn in Greenwich Village (site of 1969's Stonewall Riots and considered the birthplace of the modern gay rights movement, co-nominated by GVSHP in 1999) and the Washington D.C. home of Frank Kameny, the co-founder of the Mattachine Society.