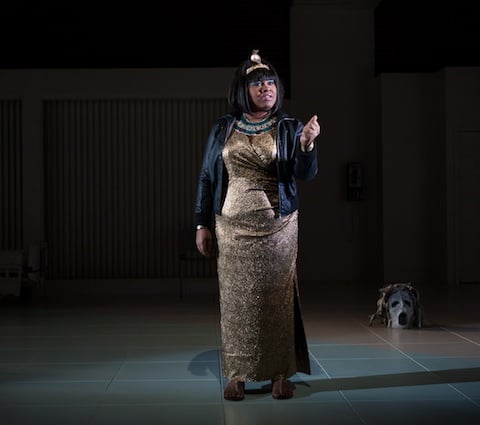 BY NAVEEN KUMAR
"Words," says one character in
Melissa James Gibson's new play at Atlantic Theatre Company, "are little
f**kers."  What Rhymes With America, which opened Off Broadway last week, is the
latest addition to Gibson's body of deftly wrought dramas concerned with, among
other things though perhaps above all, the efficacy of those 'little f**kers'
in articulating slippery truths about human experience.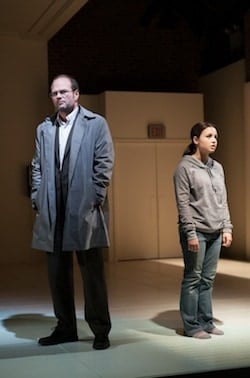 Gibson's celebrated body of work includes
her acclaimed play This, a wry drama
about close friends ambling ponderously towards middle-age, which bowed Off
Broadway at Playwrights Horizons in 2009, also under the direction of the
scribe's frequent collaborator Daniel Aukin.
As evidenced by its title—itself a
question about language—What Rhymes is
more overtly an exploration in articulation; together Gibson and Aukin take a
less conventionally naturalistic approach than in previous outings. The play
focuses acutely on the dynamics of isolation and intimacy among four
characters, disparate in their lived experience but united in their individual struggles
to answer life's Looming Existential Questions.
The story that unfolds across Laura
Jellinek's mostly white set, suggestive of various spaces—a hospital room, a
corridor, a stage door—is as fluidly imagined as the set itself. Attention
rather centers on the often heartachingly funny and almost always hyper-articulate
characters, pontificating to each other, yet mostly for the audience's benefit.
The building blocks of Gibson's drama
and dreamy style in which they're assembled—familial estrangement, unlikely
though surprisingly natural kinship, happenstance fumbling for sexual and
emotional intimacy—may feel familiar to fans of indie filmmakers like Miranda
July (Me and You and Everyone We Know)
or Paul Thomas Anderson (Magnolia).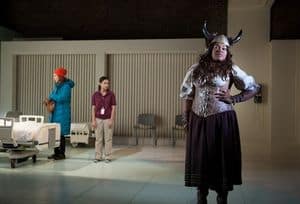 The talented cast, which includes
scene stealer and Tony nominee Da'Vine Joy Randoloh (Ghost), and Atlantic Theatre ensemble member Chris Bauer, who stars
as Andy Bellefleur on HBO's True Blood,
infuses their characters with nuanced emotional depth.
Though all excel at bringing that
depth to the surface, Gibson's somewhat loosely rendered narrative and Aukin's itinerant
staging often leave the superb performers unmoored at their most vulnerable. It's
a credit to the cast that while audiences may be moved by its performances, they
may not always understand why from the story presented here.
Despite lacking the sort of intricacy
with which her previous hit This was
rendered, Gibson's distinctive hand at doling out keen wit while tugging at
heartstrings is very much on display here. Whether audiences are able to find footing
amidst emotional peaks that at times seem ungrounded, Gibson's shrewd insight into
the shadows of mental life and her talent as a wordsmith are unmistakable. 
You can follow Naveen Kumar on Twitter @Mr_NaveenKumar.