After taking a short trip out and back in the hospital earlier on Wednesday, Secretary of State Hillary Clinton was discharged Wednesday evening to continue her recovery from a blood clot doctors said had formed between her skull and her brain following a concussion in December, the NYDN reports: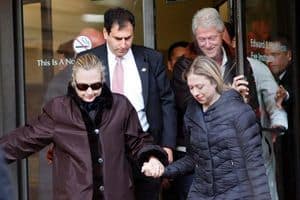 Clinton, 65, left New York-Presbyterian Hospital Columbia at about 6:30 p.m., accompanied by her husband, former President Bill Clinton, and a security detail.
She appeared pale and stoic with her hair pulled back and a gray scarf around her neck as she headed to her Westchester County home in the back seat of a black van — one of three in her motorcade.
"Her medical team advised her that she is making good progress on all fronts, and they are confident she will make a full recovery," said Philippe Reines, Clinton's deputy assistant secretary of state.
Wrote Clinton's daughter Chelsea on Facebook:
Grateful my Mom has been discharged from the hospital and is heading home. Thank you to the doctors, nurses and staff at New York Presbyterian Hospital Columbia University Medical Center for taking great care of her!
The clot was potentially serious, blocking a vein that drains blood from the brain. Untreated, such blockages can lead to brain hemorrhages or strokes. Treatment consists mainly of blood thinners to keep the clot from enlarging and to prevent more clots from forming, and plenty of fluids to prevent dehydration, which is a major risk factor for blood clots.
Dr. David J. Langer, a brain surgeon and associate professor at Hofstra North Shore-LIJ School of Medicine, said that Mrs. Clinton would need close monitoring in the next days, weeks and months to make sure her doses of blood thinners are correct and that the clot is not growing. Dr. Langer is not involved in her care.
Mrs. Clinton's illness cuts short what would have been a victory lap for her at the State Department. With only a few weeks before the end of President Obama's first term — the time frame she set for own departure — she will be able to do little more than say goodbye to her troops.
She may, however, be well enough to testify about the Benghazi attack later in January.