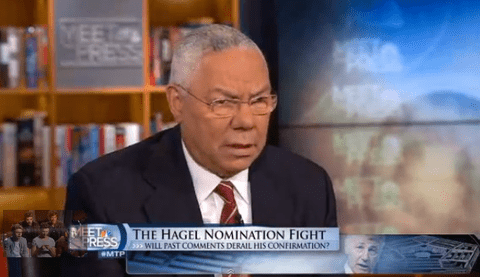 Colin Powell, the former Secretary of State, defended Defense Secretary nominee Chuck Hagel on Meet the Press today.
Asked about Hagel's past remarks about gay people being unfit to represent the United States abroad, and whether those remarks would impact the continued implementation of Don't Ask, Don't Tell's repeal, Powell said, "I think that what Sen. Hagel will do — as he has said, and as he will certainly testify at the confirmation hearing — is that he will fully implement 'Don't Ask, Don't Tell' [repeal]."
There are still issues that have to be resolved, but, I think, he will go after these issues in a way that will be very consistent with the administration's position, with the law and with the aspirations of our gay and lesbian men and women in the military. He is now responsible for them, he is now responsible for them having a proper environment in which to do their jobs. And that will include making sure that 'Don't Ask, Don't Tell,' and the elimination of 'Don't Ask, Don't Tell' is fully implemented.
Powell also said Hagel is "superbly qualified" for the post and described him as a "strong supporter" of Israel, a commitment Hagel's opponents on both sides of the aisle have questioned.
In addition to addressing Hagel's nomination, Powell, a registered though moderate Republican, accused his party peers of sustaining a race-based "dark veil of intolerance," particularly their use of racially-loaded terms when discussing the president and his policies.
Via ThinkProgress:
There's also a dark — a dark vein of intolerance in some parts of the party. What do I mean by that? I mean by that that they still sort of look down on minorities. How can I evidence that?

When I see a former governor [Sarah Palin] say that the President is "shuckin' and jivin'," that's racial era slave term. When I see another former governor [John Sununu] after the president's first debate where he didn't do very well, says that the president was lazy. He didn't say he was slow. He was tired. He didn't do well. He said he was lazy.

Now, it may not mean anything to most Americans, but to those of us who are African Americans, the second word is shiftless and then there's a third word that goes along with that. The birther, the whole birther movement. Why do senior Republican leaders tolerate this kind of discussion within the party?
Watch video of Powell's comments on racism within the Republican Party and on Hagel AFTER THE JUMP.