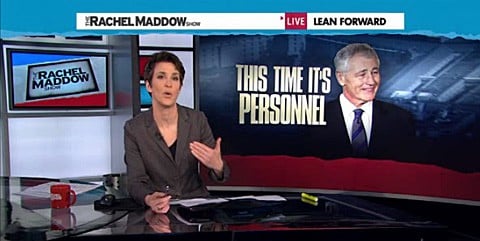 Rachel Maddow took a thorough look at Chuck Hagel's positions on rape, abortion, gays, and illuminates why all these issues are very important in considering Hagel's nomination.
Watch, AFTER THE JUMP…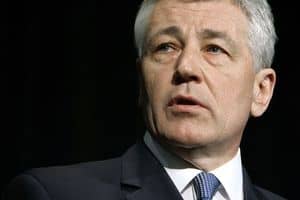 In related news, Talking Points Memo looks further into Hagel's "aggressively gay" remarks about ambassador Jim Hormel and notes that they related to a Sisters of Perpetual Indulgence (a nun drag activist group) performance Hormel was seen watching and he expanded upon the remarks:
"It is very clear on this tape that he's laughing and enjoying the antics of an anti-Catholic gay group in this gay parade," Hagel told the paper in the 1998 interview. "I think it's wise for the president not to go forward with this nomination."
TPM adds:
Hagel told the paper at the time that being gay shouldn't disqualify a candidate from being an ambassador, but that Hormel's conduct would diminish his effectiveness.
Hormel "very aggressively told the world of his gayness and the funding and all the things he's been involved in," Hagel was quoted as saying. "I think you do go beyond common sense there, and reason and a certain amount of decorum."
"If you send an ambassador abroad with a cloud of controversy hanging over him," he said, "then I think it's unfair to our country, it's unfair to the host country and it's unfair to the ambassador because the effectiveness of that individual is going to be seriously curtailed. That's just a fact of life. And I believe Hormel's situation is one of those."
Watch Rachel Maddow's segment, AFTER THE JUMP…
Visit NBCNews.com for breaking news, world news, and news about the economy