Barbara Walters has the chicken pox.

Secret Service dog falls to death from six-story New Orleans building.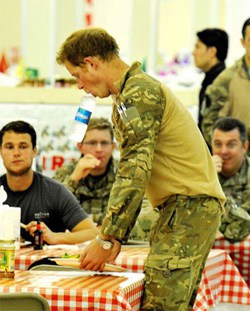 Harry's hidden talents.

Morrissey hospitalized in Michigan: "According to a rep for the singer, he was admitted to the William Beaumont hospital, 'where he is undergoing tests for a suspected bladder infection.'"

Tina Fey is working on Mean Girls: The Musical.

Tina Turner giving up U.S. passport, becoming Swiss citizen. "I'm very happy in Switzerland and I feel at home here. … I cannot imagine a better place to live."

Yes, Hugh Jackman and Anne Hathaway (or the SAG awards writers) stole a meme review of Les Miserables.

2012 Recipient of the Clinton Global Citizen Award and Advocacy Officer of Sexual Minorities Uganda (SMUG) Pepe Julian Onziema writes for CNN about living out and proud in Uganda: "Existing out in the open is ordinary for most people, but visibility is magical for those of us who once roamed the land like ghosts. 'There are no homosexuals in Uganda,' our leaders said not too long ago. They cannot say that now. They say I am evil. They say my love is illegal. But in 2013, they can no longer say I am not here."

Chris and Liam Hemsworth: Bros surf together.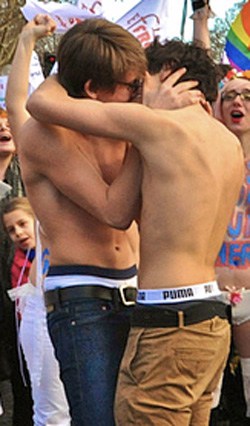 Two men cheered by topless Femen activists at the pro-gay marriage rally in Paris over the weekend.

VIDEO: Florida pastor Terry Jones burns Obama, Clinton in effigy.

AfterElton talks to Carrie Bradshaw's eighties-era gay BFF Brendan Dooling. "Some people are privy to it. As I said, he's not flamboyant, he's not very effeminate, he does have that edge to him, but he can also carry himself like a young man and be attractive to young women. But I think everybody is going to know before him."

Obama and Clinton do 60 Minutes.

UK Roman Catholic church distributes a million postcards opposing Government's plan for marriage equality: "The issue to due to come up for a vote in the Commons as early as February 5. It would open the way for the first same-sex weddings to take place as early as the beginning of next year."

UK Defense Secretary Philip Hammond links incest with same-sex marriage: "When the students asked why the MP believed the government should retain a ban on same-sex marriages, he responded by likening the current ban on equal marriage to incest, where it is illegal for two siblings to enter into wedlock. Mr Hammond also said existing civil partnership legislation had removed discrimination."

Wanted: Fort Wayne mayor for equality.

Celebrating Eddie Redmayne.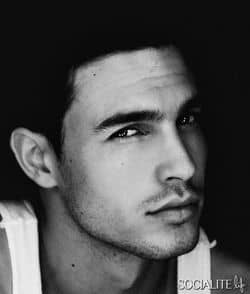 Male model fix: Anthony Gastelier.

New Orleans Museum of Art acquires Skylar Fein's massive installation "Remember the Upstairs Lounge" which recalls the tragic 1973 fire in the crowded French Quarter gay bar. "Fein said that he sees the museum acquisition as an indication of how far society has come since the deliberately set fire, which remains an unsolved case. At the time, he said, the city had trouble acknowledging the existence of gay gathering spots."

It is now a crime to unlock your smartphone.

Obama cites 'DADT' repeal as example of why he's restrained on executive orders: "There were advocates in the LGBT community who were furious at me, saying, 'Why don't you just sign with a pen ordering the Pentagon to do this?' And my argument was that we could build a coalition to get this done, that having the Pentagon on our side and having them work through that process so that they felt confident they could continue to carry out their missions effectively would make it last and make it work for the brave men and women, gays and lesbians, who were serving not just now but in the future."