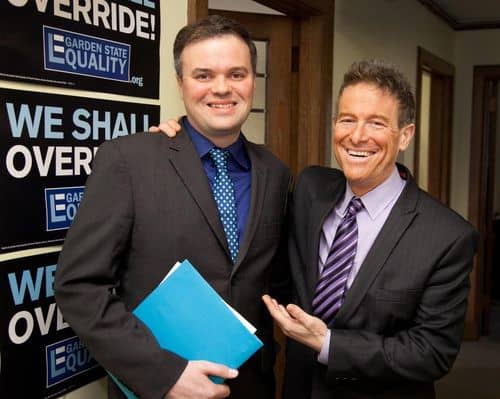 Troy Stevenson (left), and Steven Goldstein.
Steven Goldstein, chair and founder of NJ LGBT rights group Garden State Equality, will step down from the group he formed in 2004, he announced in a letter to supporters on Wednesday night:
As most of you know, I even returned to school in mid-career to study to be a rabbi, a lifelong aspiration from which I've been on leave to serve as Garden State Equality's Chair and CEO. I'll resume my rabbinic studies for certain. But now I have the chance work at a university full-time, as Rutgers-Newark has asked me to become Associate Chancellor for External Relations. I have accepted the offer. My last day as Chair and CEO of Garden State Equality will be Sunday, January 20th, our Inauguration Celebration Brunch.
My portfolio at Rutgers-Newark will include government relations and communications. I will also continue to teach a course at Rutgers-Newark Law School. No other opportunity could have pulled me away from the work I love so much. There's a personal bonus, too. My partner Daniel is starting his own business, and now I'd like to help him pursue his dream just as he has supported me all these years at Garden State Equality. Daniel, I love you.
Goldstein also named his successor:
I'm overjoyed that Garden State Equality's Board has unanimously selected Troy Stevenson to be the new Chair and CEO of Garden State Equality effective Monday, January 21st. Troy served as our Managing Director, my deputy, until he became a field director for the 2012 Obama campaign in Pennsylvania, while continuing to serve on our Board to this day. He is an extraordinary field operative, political talent and all-around human being. Working by my side, he is the person I someday wanted to take my place, which you bet he can.
Though marriage equality has not yet come to pass in the state, the group has been at the forefront of many triumphs, Goldstein added:
You have built an organization of 124,850 members whose work has led to 213 LGBT civil rights laws at the state, county and local levels since 2004. Today, New Jersey has the best anti-bullying law in the nation – ranked #1 by a U.S. Department of Education study in December 2011 that compared the laws of all 50 states and the District of Columbia. Every week, Garden State Equality receives phone calls from parents or students telling us how the law has improved their lives, and saved some.
Goldstein says he will remain involved as Founder and Chair Emeritus, which will be an ex officio position on the Board and its executive committee.