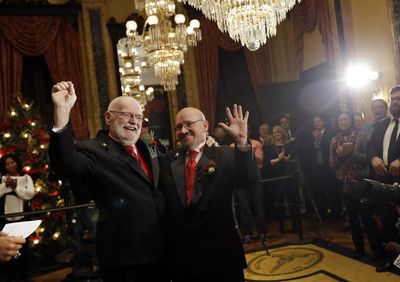 PHOTO OF THE DAY: Marriage Equality begins in Maryland. 
BY SAM GREISMAN
A look back at today's top stories
GAY NEWS
A super cute story to start off 2013. Check out pro bowler Scott Norton kissing his husband after winning a title in Las Vegas; a kiss that ESPN had no problem airing. Also it seems that though some pretty ardent hate-mongers come from Ohio (John Boehner), the state is full of people happy to embrace LGBT love. Good news too out of Washington where The Department of Housing and Urban Development has used their new rules prohibiting LGBT discrimination to settle a claim filed by a lesbian couple in Florida who were denied a mortgage by Bank of America. 
Today, Brian Sims became the first lawmaker in Pennsylvania to be sworn in while out of the closet. In Illinois, Catholic leaders are peeved by the steady march toward a vote on marriage equality in the state, possibly Thursday.

**
POLITICS
Just in the nick of time Democrats and Republicans struck a deal to save us from falling off the so-called "fiscal cliff". Watch President Obama explain the stop-gap measure. Gay radio host Michelangelo Signorile is taking issue with how the Log Cabin Republicans are being used by conservatives to attack Chuck Hagel.
ENTERTAINMENT
In case you missed it, Kathy Griffin and Anderson Cooper got super gay and silly and probably a little drunk when they hosted New Year's Eve for CNN. Singer Fantasia Barrino spoke publicly today about her allegedly anti-gay remarks on Instagram. Also, Andrew Sullivan has announced that he will be leaving The Daily Beast to set up a pay site with no ads. 
**
VIDEO OF THE DAY
Usually its the kids that freak out on Christmas morning but check out this dad who is super stoked to get a puppy from Santa.