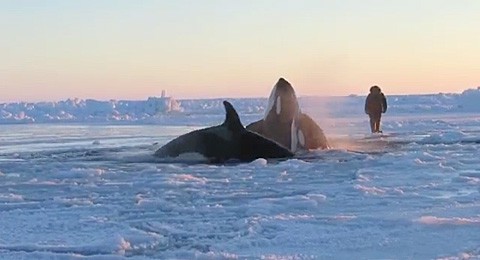 A pod of approximately a dozen killer whales has become trapped under sea ice with a breathing hole only several dozen feet across near the nothern Quebec village of Inukjuak. The situation appears dire.
The mayor of Inukjuak is calling for an icebreaker for help but it's unclear if it can help them in time.
Mayor Peter Inukpuk urged the Canadian government Wednesday to send an icebreaker as soon as possible to crack open the ice and help them find open water. The Department of Fisheries and Oceans said it is sending officials to assess the situation.
"Fisheries and Oceans Canada is assessing the situation and are exploring every possible option, but will only be in a position to determine what – if anything – can be done once our specialists arrive on site," spokesman Frank Stanek said in a statement
A hunter first spotted the pod of about a dozen trapped whales Tuesday at the hole, which is on the eastern shore of the Hudson Bay. Inukjuak is about 1,500 kilometers (900 miles) north of Montreal.
I hope someone helps these beautiful animals. They are obviously desperate for any break they can get.
Watch the incredible video, AFTER THE JUMP…