Former Senator Chuck Hagel has been confirmed as Secretary of Defense in a 58-41 vote four hours after the Senate invoked cloture in a 71-27 to end debate on his nomination.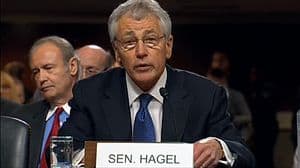 The Washington Blade reports:
Among those casting a vote in favor of Hagel was lesbian Sen. Tammy Baldwin (D-Wis.), who previously told Washington Blade she had a "very good conversation" with him and would support his nomination. Last month, Baldwin said she had "tough questions" about his view of the post-"Don't Ask, Don't Tell" military.
Hagel's nomination was controversial in the LGBT community because of remarks he made in 1998, when he said the U.S. ambassador to Luxembourg, Jim Hormel, shouldn't be confirmed to the post because he's "openly aggressively gay." Hagel also had a dismal voting record on LGBT issues during his tenure in the U.S. Senate. Just prior to his nomination as defense secretary, Hagel apologized for the anti-gay remarks.
Army Veteran and OutServe-SLDN Executive Director Allyson Robinson praised the Senate in a press release:
"We congratulate Senator Hagel for enduring an incredibly arduous confirmation process to become our next Secretary of Defense – this is a win for all service members, and for LGBT service members and their families especially. We thank the Senator for his commitment to equal treatment and equal opportunity, and we urge him to take swift action to include our service members in non-discrimination and anti-harassment protections. It has been reassuring to see Senator Hagel show the kind of clear, unambiguous leadership in support of our service members and their families he has demonstrated in recent months. Now he has the opportunity to turn his commitments into action, and we look forward to working with him to ensure our military embodies the same values of fairness and equality it protects."
According to Outserve-SLDN:
Unlike other minority groups, LGBT service members are not currently protected with an avenue of recourse outside their chain of command should they experience harassment or discrimination. Such protections are common elsewhere in the federal government and throughout the private sector, with 88 percent of Fortune 500 companies protecting employees from discrimination on the basis of sexual orientation.