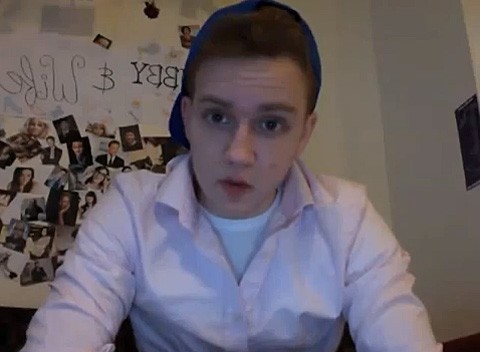 A Boston frat is demonstrating exactly what the word fraternity means, raising money for their transgender brother Donnie Collins's surgery. As of this posting, they've raised $6,862. Story below.
Writes Benjamin Lindsay at OUT.com: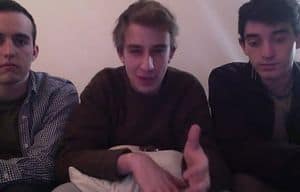 Earlier this year, Visual & Media Arts sophomore Donnie Collins pledged as a prospective brother to Phi Alpha Tau, the nation's oldest professional communicative arts fraternity. An Alexandria, Virginia native, Collins didn't come out as transgender until age 17 while attending a boarding school in Windsor, Conn. Of his time in an all-girls dorm, he says in a recent interview, "They were really nice, but it was all horrible."
Thus far, Collins has been taking his gender transition one step at a time. Barred from using his mother's insurance to cover any physical transitions, he has singlehandedly covered the bulk of his hormone therapy since December 2011.
"I'd go to the endocrinologist and pay hundreds of dollars out of pocket, because, of course, I didn't have insurance of my own," he explains.
Collins now has a college health insurance policy through Emerson, a policy, like so many others, that is trans-exclusionary. It is common practice for insurance companies to deem female-to-male breast augmentation—or top surgery—as a cosmetic plastic surgery rather than a necessity. So Collins has been raising money for the procedure for months, but it seemed that one door after another would close in his face. His petition for a trans-inclusive policy was recently denied by the college's insurance plan, and his personal Chipin fund will cease when the crowd-funding site shuts down next month.
In a time when his options were running out, Collins's brothers in Phi Alpha Tau have rallied together to cover some of the surgery's cost. Find their indiegogo fund here: Brothers of A Boston Fraternity – FTM: Top Surgery. The brothers' fund has already surpassed the $2,000 they initially hoped to donate, but now they're looking to cover even more of the procedure's $8,100 cost.
Watch Phi Alpha Tau's fundraising video, and Donnie Collins thank you, AFTER THE JUMP…