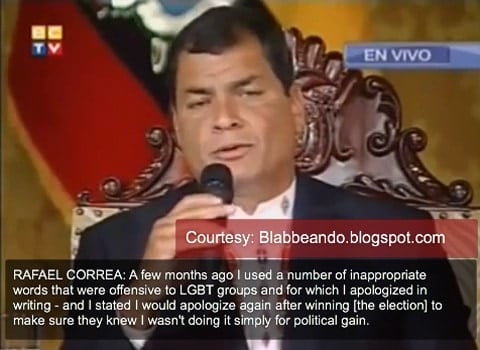 Rafael Correa, Ecuador's President who was reelected in a landslide on Sunday, apologized to LGBT people during his victory speech, reports Andrés Duque at Blabbeando.
Said Correa:
A few months ago I used a number of inappropriate words that were offensive to LGBT groups and for which I apologized in writing – and I stated I would apologize again after winning [the election] to make sure they knew I wasn't doing it simply for political gain.
Once again I'd like to express my apologies to those LGBT groups for some words that might have escaped me. Each one of us was born and grew up with stereotypes and stigmas and we have to fight against this type of – let's call it deformed – social upbringing, etcetera. But our commitment is to defend everyone's dignity and equality. We are diverse but never unequal.
And I was reminded of this by the leader of a GLBT group who I greatly admire a couple of days ago. You need a lot of courage to lead these type of movements. Let's offer them all our support and – on a personal basis – I offer my full respect and the effort and commitment to eliminate all types of discrimination in this country.
Watch, AFTER THE JUMP…
Read Blabbeando's full post here.