Back in December, Marine Corps. Captain Matthew Phelps made history when he became the first gay man to ask his partner Ben Schock to marry him at the White House.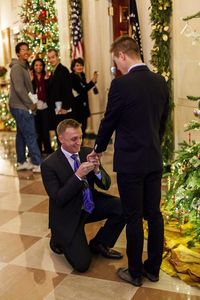 Today, the Center for American Progress and OutServe/SLDN profile the soon-to-be-married couple, who will be heading for Okinawa, Japan soon when Phelps takes on a new assignment, in a video highlighting the financial struggles they'll incur because of DOMA:
As long as DOMA remains in effect and the cost of his moving is taken into consideration, Capt. Phelps may expect to receive about $20,000 less in benefits and allowances than the other married servicemen that he serves beside.
The video comes alongside a new CAP report: How DOMA undermines the U.S. Military.
The report describes the nearly 100 statutory benefits conferred on our troops by Congress that depend on DOMA's definition of marital status and are denied same-sex military spouses and their children. These include housing and moving benefits, health insurance, employment assistance, immediate emergency notification if their husband or wife was killed, wounded, or missing in action, and the right to be laid to rest beside them in a military cemetery.
Watch the profile on Phelps and Schock, AFTER THE JUMP…