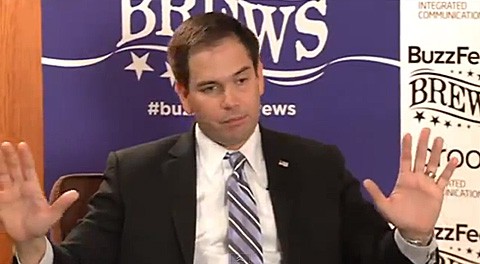 Senator Marco Rubio (R-FL) spoke with Buzzfeed's Ben Smith on Tuesday night during a wide-ranging 'Buzzfeed Brews' interview and one of the topics that came up was gay inclusion in immigration reform, CNN reports:
Asked Tuesday whether same-sex couples should be covered in any immigration package, Rubio said the group hadn't discussed the "pros and the cons of it."
"I can tell you this," he continued. "This issue is so complicated. The immigration issue has so many landmines and pitfalls that it's going to be hard enough to do, as is. I think if that issue becomes a central issue in the debate, it's just going to make it harder to get it done because there's going to be a lot of strong feelings about it on both sides."
Rubio, a potential 2016 presidential candidate, added he "respects peoples' views" and is "willing to listen to anyone's arguments" but reiterated, "I hope that doesn't become the central issue of this debate."
"I imagine that issue will eventually be confronted," he later added.
The subject, however, is already gaining traction. On Tuesday, the president met with a number of labor and progressive groups at the White House, including an LGBT organization called "Immigration Equality." Also Tuesday, a group of 16 House members, including two Republicans, re-introduced the "Uniting American Families Act," a bill that would allow gay and lesbian Americans to sponsor permanent partners for legal residency.
Rubio also said that he believes marriage should be between a man and a woman but that ultimately it's a states' rights decision.
Watch the full Buzzfeed interview with Rubio, AFTER THE JUMP…
The question about gay issues comes around 8:00.