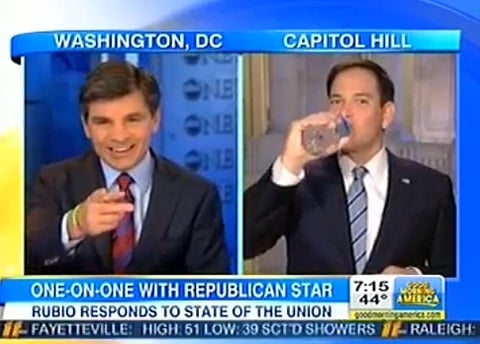 Marco Rubio made the rounds this morning to talk about his response to the State of the Union address, but mainly the water.
Explained Rubio to George Stephanopoulos on GMA:
"I needed water, what am I going to do? God has a funny way of reminding us we're human."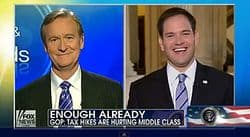 Said Rubio to Steve Doocy on Fox & Friends:
"My mouth got dry, and I had to get some water. You know, when you give a speech on a podium and the water is right there,  but when you don't, you start looking around thinking, 'Where am I going to get the water?' I figured I was better off just taking that water and taking the hit for it then being unable to pronounce my words. It'd been a long day at work, we'd already done an 18-minute recording in Spanish — and you know, my mouth got dry, what can I say? But I was happy overall with what we were able to deliver."
And Morning Joe called it a "cheap shot" but then said Rubio had "performance issues".
Said Mika Brzezinski:
"I think there were performance issues. These things happen when you don't really know what you're saying or believe what you're saying or feel what you're saying."
Watch all the clips, AFTER THE JUMP…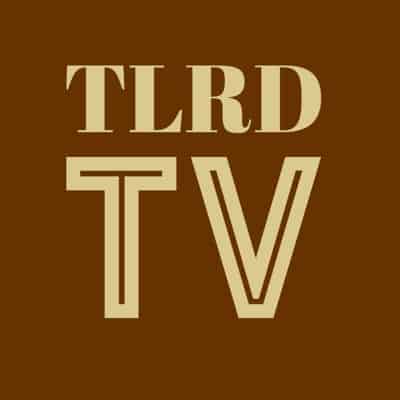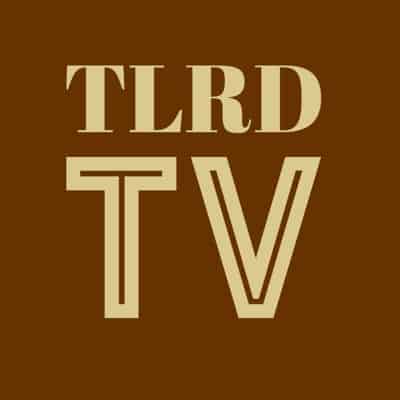 Visit NBCNews.com for breaking news, world news, and news about the economy