This week a federal judge in Michigan delayed a ruling in a case challenging the state's ban on same-sex marriage until after the Supreme Court took up its cases on DOMA and Proposition 8.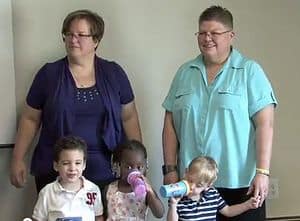 Buzzfeed's Chris Geidner has some details on why that may have happened:
Hoping to avoid a marriage case being heard by the more conservative Sixth Circuit Court of Appeals, several organizations fighting for marriage equality — including the American Civil Liberties Union, Human Rights Campaign, Lambda Legal, and National Center for Lesbian Rights — suggested in a December 2012 filing that the court hold off.
The groups wrote that before resolving the Michigan couple's case, "this Court may determine that it is prudent to await decision" in the California Proposition 8 case at the Supreme Court.
Federal Judge Bernard Friedman took the national groups' recommendation Thursday and is holding the couple's case to await word from the Supreme Court before issuing a decision in DeBoer and Rowse's case.
Although the LGBT groups' moves have been out of the spotlight as the DOMA and Proposition 8 cases took center stage, they shed light on the careful approach LGBT legal advocacy organizations have taken in the past couple of years. Although courtroom successes have been plenty in challenges to the Defense of Marriage Act, more direct marriage-rights cases have met with mixed results.