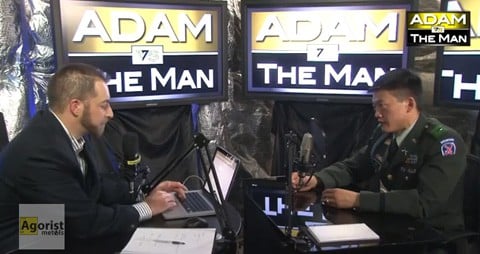 Lt. Dan Choi's trial, which began in August 2011 for protesting "Don't Ask, Don't Tell" with 12 other activists on November 14, 2010, resumes on Thursday in federal court in Washington D.C.
Choi and the others chained themselves to the White House fence while chanting "I am somebody," "We do this for you" and "President Obama, Silent Homophobia."
Choi faces 6 months in prison or a $5,000 fine for an obscure infraction of Parks and Wildlife federal regulations.The 12 other activists accepted a plea deal, agreeing to a guilty plea in federal court for which they would serve no jail time if not re-arrested within four months. Choi would not accept the deal.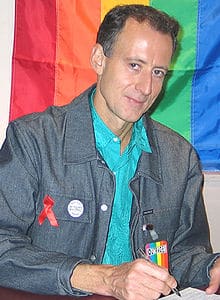 British activist Peter Tatchell is coming to Washington D.C. in support of Choi, attending the trial as a human rights observer.
Said Tatchell in a press release:
Generally, White House protestors are arrested and required to pay $100 fine to a municipal court, the equivalent of a parking ticket in the District of Columbia. Instead, in this case, the US Attorney's Office is invoking a seldom-used federal level criminal charge called "Failure to Obey".
Choi's case is the first time since anti-Iraq war protester Cindy Sheehan was prosecuted, that a protestor has been tried federally for demonstrating at the White House. 
The trial Judge, John M. Facciola, has already made a prima facie finding for "vindictive prosecution" in Lt. Choi's case, prompting the prosecution to make legal history by pausing the trial for two years and embroiling Lt. Choi in a Writ of Mandamus fight.
Until this trial, such a radical and rarely used writ has never been granted in the middle of criminal proceedings. The writ orders the trial judge not to hear evidence concerning the selective prosecution and political targeting of the defendant.
Activists and supporters are planning peaceful actions in support of Choi on Thursday morning beginning with a meditation and interfaith prayer at 8 am and a speaking rally. Organizers report that several civil rights leaders will be on hand to voice support for Choi's efforts. The trial resumes at 9 am. Those wishing to support Choi should gather at:
United States District Court 
E. Barrett Prettyman Courthouse 
333 Constitution Avenue, NW
You can also find out how to get involved to support Choi at the website DADTprotest.com.
Choi talks about where he is in his case with Adam Kokesh, AFTER THE JUMP…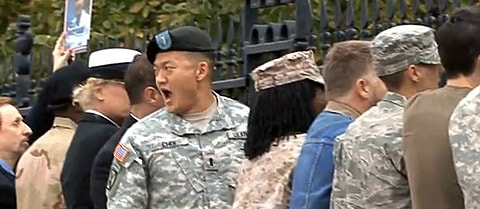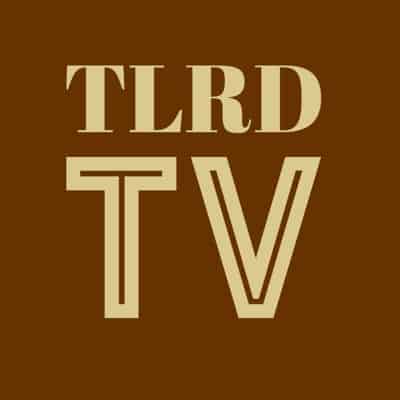 A timeline of Choi's activism, via #Fail2Obey