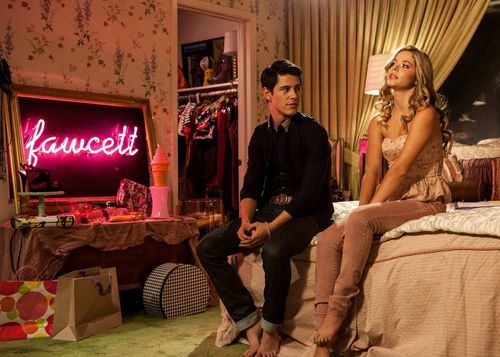 Darren Stein, who directed Jawbreaker, is putting finishing touches (and crowd-funding them) on a new teen high school comedy with a gay protagonist, called G.B.F., which finished shooting last October and is set to screen at the Tribeca Film Festival next month.
G.B.F. tells the story of two closeted best friends, Tanner (Michael J. Willett, United States of Tara) and Brent (Paul Iacono, The Hard Times of R.J. Berger). Brent longs for the spotlight and has a plan that will make him the most popular kid in school. He believes that coming out will make him instantly popular, as the newest must-have teen girl "accessory": The G.B.F. (Gay Best Friend). Tanner on the other hand, would rather fly under the radar and graduate from high school without ever being noticed.
When things don't go according to plan and Tanner is outed instead of Brent, the two boys go from B.F.F.s to instant frenemies and the three most popular girls in school — queen-of-mean bombshell Fawcett (Sasha Pieterse, Pretty Little Liars), drama club diva Caprice (Xosha Roquemore, Precious) and sweet, Mormon good-girl 'Shley (Andrea Bowen, Desperate Housewives) launch an all-out social war to win Tanner's status-enhancing friendship.
Also in the film: Natasha Lyonne, Megan Mullally, Rebecca Gayheart, Jonathan Silverman, and Horatio Sanz.
Check out a preview, AFTER THE JUMP…