The gayest places/buildings in America.
AP: Rhode Island marriage equality hinges on religious exemption.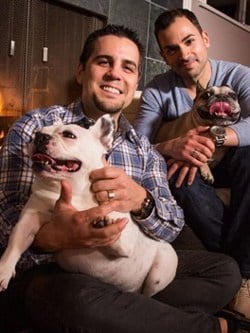 The WaPo profiles Jeff Zarrillo and Paul Katami, one of the gay couples serving as plaintiffs in the Prop 8 case: "We talked to quite a few couples," said Theodore Boutrous, a partner of Olson's in Los Angeles. He said the discussions were extensive. "We wanted them to know that we expected this to be a major case for marriage equality . . . and that we were trying to change the public dialogue and that they would really be in the public eye."
Kim Kardashian had her face injected with blood.
Charleston County Councilwoman Colleen Condon comes out of the closet to clarify inaccuracies posted about her on a website: "Yes, I'm gay," Condon told council members. "I don't think that's a sex scandal in 2013."
Oz the Great and Powerful had a $150 million weekend.
Gay couples could see windfalls from SCOTUS decision:
"A decision is not expected until the end of June, but accountants and
tax attorneys anticipating the 18-year-old law's demise are already
encouraging same-sex couples like Raphael and Meyer to seek prospective
tax refunds, back retirement payments and other spousal subsidies they
may have been denied."
Male model fix: Kaylan Morgan.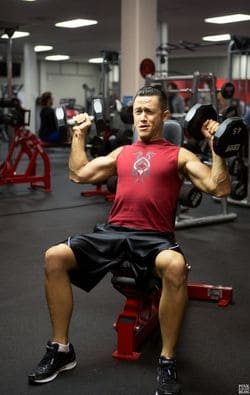 Joseph Gordon-Levitt works out.
Nebraska lawmakers to consider gay rights bills this week: "Lincoln Sen. Danielle Conrad is offering a bill that would ban businesses from discriminating against current or prospective employees based on their sexual orientation or marital status. The bill would not apply to religious groups. Sen. Ernie Chambers introduced a similar bill in 2007, but it was killed by a 24-15 vote. Conrad says she thinks it's a good time to revisit the issue since people are becoming more open to gay rights locally and nationally, especially since the repeal of the military's Don't Ask, Don't Tell policy."
Russian gay activist interviewed about state crackdown.
Tell officials at Fountain-Fort Carson School District 8 to stop discriminating against Coy Mathis.
EA official: Video games can do better for the LGBT community.
Renovation Nation: Nate Berkus hosting home makeover show for ABC. "The series will feature home builders and designers competing for a cash prize, with voting to determine the final winner and two viewers ultimately awarded dream homes."
Chick-fil-A is gone for good from Emory University: "Perhaps the franchise's sales plummeted, or perhaps it simply it no longer fit in the campus's 'master planning.' At any rate, it is a victory for LGBT students, who will no longer have to encounter a glowing symbol of anti-gay prejudice as they partake in lunch on campus."
Friend: Kate Middleton's brother James is not gay.
Matthew Fox can't stand One Direction because he loves music.
Danny Boyle: Trainspotting sequel with original cast to shoot in 2016.
"Undocuqueers" counted in new study: "A report released Friday by the Williams Institute at UCLA calculated that out of the 11 million undocumented immigrants estimated to be America today, 267,000 adults identify as LGBT. Another 637,000 LGBT adults were legal immigrants. Gary Gates, a scholar at the Williams Institute, said that the number was a conservative estimate based on cross-referencing survey data on undocumented immigrants, sexual orientation, along with data on married same sex couples. Gates' remarks came at an event in Washington, D.C., debuting the finding that was hosted by the liberal Center for American Progress."