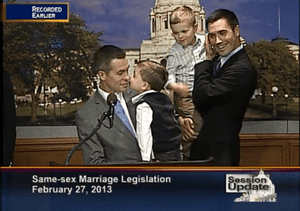 BY SAM GREISMAN
A look back at today's top stories
MARRIAGE EQUALITY
A day after his administration filed a brief that urged the Supreme Court to strike down Proposition 8, President Obama publicly addressed his decision to stand up against discrimination. Ari Waldman takes a look at what the Obama brief means, not only for the Supreme Court but also for gay rights as a whole. And if this isn't the best advertisement for marriage equality and gay parenting, I don't know what is; check out these adorable twin little boys who just want their daddys to stop talking and play with them!
**
WINGNUTTERY
A lesbian woman is recovering in Texas today after being brutally assaulted after trying to defend a bullied four-year old boy. I guess playground behavior doesn't stop after the playground. 
Mitt and Ann Romney sat down with Fox News to discuss the pain of suddenly being nobodies. My heart breaks for them. Also in response to the arrival of the Westboro Baptist Church, Vassar University staged a ginormous counter protest. Nothing bands people together like a mutual hatred of the WBC. 
**
VIDEOS OF THE DAY
Dogs are never more scary than when they take on the form of a giant robot that throws cinder blocks. And in something out of a horror film, a man in Tampa fell into a giant sinkhole in his living room and hasn't been seen or heard from since.