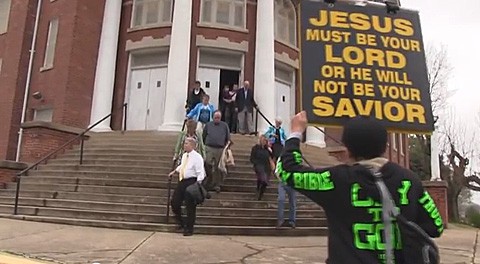 Yesterday I posted a clip of a little kid yelling at Easter Sunday churchgoers about Leviticus at the LGBT-friendly Green Street United Methodist Church in Chapel Hill, North Carolina.
"The Bible talks about that the homosexuals are worthy of death.  Not only them that do it, but them that approve of it. They are worthy of death!"
So who is this kid? His name is Nolan, and his story is a sick tale of religious indoctrination.
Jim W at evoL did a bunch of research:
This was not Nolan's first performance yelling at innocent strangers on the street. In a previous performance outside a courthouse he actively invited them to disobey secular law.
The website Official Street Preacher Blogspot gives insight into the Cranford family. According to the site, "Nolan has been watching preach clips from youtube like children playing videos or watching cartoons"…
…When Nolan was four, he was started on the streets yelling at passersby. The Cranfords are the anti-gay's acceptable "traditional" family: one man, one woman. Nolan and his younger siblings were home schooled by his mom, while he was encouraged in his public disturbance vocation by the cohorts of his father. One reported, "We all stayed at the Cranford's home and we celebrated their sons birthday on our last day of preaching, Nolan was to turn 8 later that month but we celebrated it that evening. He has been inspired by his father and the many youtube clips of open air preachers nationwide, as most kids his age would watch cartoons or play on the computer, he watched preaching videos… after dinner we had a birthday cake and placed Noland on the hot seat. From there a few street preachers questioned him and if he gave the correct answer, he got $20.00 an answer … He made a few bucks that night."
So when religious right-wingers sermonize that gays are indoctrinating kids, you can point them to this story and tell them what real indoctrination kids.
I've reposted the clip, AFTER THE JUMP…