During the week of the Supreme Court marriage hearings, conservative hero Dr. Ben Carson made some ugly remarks to Sean Hannity comparing gays to pedophiles and people who have sex with animals. Since that time, there have been calls for him to step down as this year's Johns Hopkins University School of Medicine commencement speaker.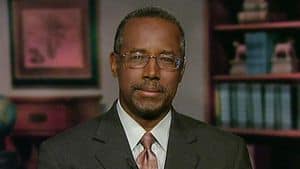 He stepped down last night, the Baltimore Sun reports:
Carson sent Rothman a letter saying that he didn't want to "distract from the celebratory nature of the day."
"Given all the national media surrounding my statements as to my belief in traditional marriage, I believe it would be in the best interest of the students for me to voluntarily withdraw as your commencement speaker this year," he wrote in the letter to Rothman, which the dean shared with the Hopkins community.
Neither Rothman nor Carson was available for comment Wednesday night.
"This was purely Dr. Carson's decision," said Hopkins spokeswoman Kim Hoppe in an email, adding that the university did not ask him to give up the speaking engagement.