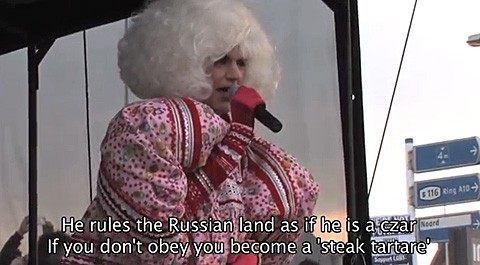 Drag queen Dolly Bellefleur had a massive crowd cheering in Amsterdam with a rollicking anthem about Russia's oppression of LGBT people during a protest yesterday timed to coincide with President Vladimir Putin's visit to the city.
Check it out, AFTER THE JUMP…
Some of the lyrics:
There lives an evil man in Russia nowadays
He supports a law against lesbians and gays
Most people look at him with terror and with fear
Cause he pulls the strings like a wicked puppeteer
It's distressing how he is suppressing homosexuality
In the name of love we are protesting: Set our sisters free.
Stop stop stop Putin – Drop your law at the Kremlin – Love is no crime it's not a disease
Stop stop stop Putin – Your plans are so poisoning – For all the Russian LGBTs.