Film critic Roger Ebert has died at 70, the Sun-Times reports: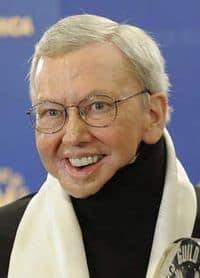 Ebert, 70, who reviewed movies for the Chicago Sun-Times for 46 years and on TV for 31 years, and who was without question the nation's most prominent and influential film critic, died Thursday in Chicago. He had been in poor health over the past decade, battling cancers of the thyroid and salivary gland.
He lost part of his lower jaw in 2006, and with it the ability to speak or eat, a calamity that would have driven other men from the public eye. But Ebert refused to hide, instead forging what became a new chapter in his career, an extraordinary chronicle of his devastating illness that won him a new generation of admirers. "No point in denying it," he wrote, analyzing his medical struggles with characteristic courage, candor and wit, a view that was never tinged with bitterness or self-pity.
On Tuesday, Mr. Ebert blogged that he had suffered a recurrence of cancer following a hip fracture suffered in December, and would be taking "a leave of presence." In the blog essay, marking his 46th anniversary of becoming the Sun-Times film critic, Ebert wrote "I am not going away. My intent is to continue to write selected reviews but to leave the rest to a talented team of writers hand-picked and greatly admired by me."
RIP.