Tasso Stafilidis, the first openly gay person elected to the Swedish parliament in 1998, was attacked while on vacation in Greece, eNet reports: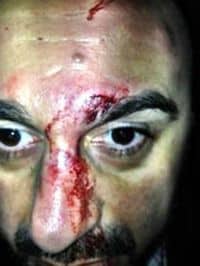 Stafilidis, who was accompanied by a friend, initially thought that the three masked men following them were going to rob them.
However, the black-clothed men started yelling homophobic insults at Stafilidis and his friend, calling them "dirty faggots", and started punching and kicking them on the head and body. They then fled the scene without stealing anything from their victims.
The number of violent attacks on homosexuals has risen in Greece since the debt-crisis started three years ago.
In an article published in the Huffington Post a few months ago, gay-rights activists said that over the last year there is a clear increase in homophobic violence, stressing that the attacks follow the same patterns of Golden Dawn members' attacks against migrants. The neo-nazi party,  which won 18  seats in last June's parliamentary elections, is openly anti-gay.
Born to Greek parents, Stafilidis, who hadn't visited Greece in seven years, said he had already noticed a shift in attitudes before being attacked. "These things go hand-in-hand when a country's prosperity collapses. The crisis makes people susceptible to this kind of rhetoric and sentiment."