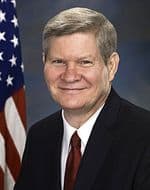 Senator Tim Johnson has come out for marriage equality in a statement to the Argus Leader:
"After lengthy consideration, my views have evolved sufficiently to support marriage equality legislation. This position doesn't require any religious denomination to alter any of its tenets; it simply forbids government from discrimination regarding who can marry whom."
Johnson had previous opposed same-sex marriage.
His endorsement followed that of two colleagues on Friday: Sen. Heidi Heitkamp, D-N.D., and Sen. Joe Donnelly, D-Ind. Fifty-four U.S. senators now endorse same-sex marriage. Only three Democratic senators do not: Mary Landrieu of Louisiana, Mark Pryor of Arkansas and Joe Manchin of West Virginia.
Manchin (D-WV) is the only one to have not made a recent statement since the groundswell of support began for marriage equality late last month.
Landrieu said last week that she personally supports it but won't back it publicly since her voters don't, and Pryor said over the weekend that he was "undecided".