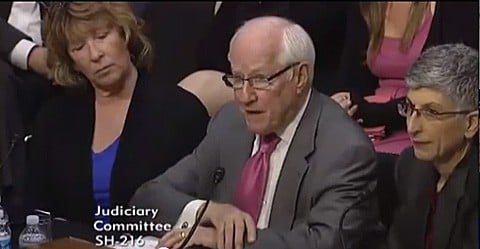 Earlier today I reported that gay former Rep. Jim Kolbe (R-AZ) had testified before the Senate Judiciary Committee, urging the 'Gang of Eight' to adopt LGBT-inclusive immigration reform.
Kolbe cited his partner Alfonso in his testimony:
On May 18th—just a month from now—Hector and I will legally marry here in the District of Columbia, surrounded by family and friends. We are immensely fortunate that Hector has now secured an investment visa that allows him to remain here with me. Many other couples, however, are not as fortunate. Even if they, like us, have a marriage, civil union or life-long commitment to each other, their ability to secure a permanent solution that would allow them to build a home, family or business together is elusive and difficult to realize. It shouldn't be that way, and this Committee has an opportunity to fix this problem.
Watch, AFTER THE JUMP…
Kolbe is one of 20 witnesses to testify before the Senate panel and the only one whose sole aim is in the service of gay binational couples. This year, Kolbe signed the Republican SCOTUS brief opposing DOMA. In 1996, he was outed by The Advocate for having voted in favor of it.