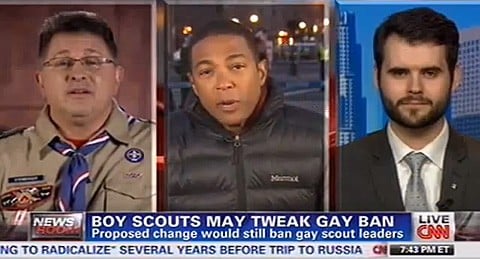 CNN's Don Lemon covered the Boy Scouts' gay ban in a segment Sunday in which two Eagle Scouts appeared: Scouts for Equality's Zach Wahls and John Stemberger, an anti-gay activist with the Florida Family Policy Council who started an organization for homophobes opposed to gays in the BSA called On My Honor.
Stemberger said that opening the Boys Scouts to gay people will destroy it and there is not way that the Catholics, the LDS, or the Baptists will allow it. He also tried to argue that the Boy Scouts are actually fine with gays in their organization, and there's not a "witch hunt" against those that are in it because they are "appropriate, discreet, and not loud and proud."
Wahls, when given his opportunity, calmly destroyed him:
"When people try to say that this is about, you know, 'open' or 'avowed' homosexuality, it's really just a code word for the problem they have with gay people. Being an 'open gay person' is not a whole lot different from being a closeted gay person except for the fact that you have somebody trying to lie and violate the very first part of the Scout law which is that a Scout is trustworthy."
Watch, AFTER THE JUMP…