Yesterday I posted gay Montana Rep. Bryce Bennett's powerful floor speech in support of repealing the state's statutes which criminalize gay sex. The Montana House took a vote on it yesterday, and it was decisive, the Billings Gazette reports: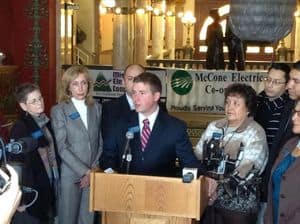 After a half-hour of emotional debate for and against the measure, the House voted 64-36 to endorse Senate Bill 107, one day after House members narrowly voted to remove it from the House Judiciary Committee, where it had been tabled on a party-line vote with Republicans in favor.
"It's not about encouraging a lifestyle," said Rep. Bryce Bennett, D-Missoula, one of the Legislature's only openly gay members. "It's simply about respecting privacy between two adults. … It's just as simple as saying that all Montanans deserve dignity and respect."
Twenty-five Republicans joined all 39 House Democrats to support the bill, which removes gay sex from the definition of the crime of "deviate sexual relations," a felony that carries a penalty of up to 10 years in prison and a fine of $50,000.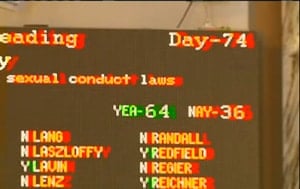 38 Republicans voted to keep the unconstitutional language on Montana's books:
Kerns' stance, and the fact that 38 Republicans effectively voted to keep gay sex a felony, incensed Rep. Amanda Curtis (D-Butte).
"It was so hard to sit through that and not walk across the floor and punch him," Curtis said of Kerns in a video uploaded on YouTube. "That's so offensive. Talk about starting a fight."
"…To say that our friends and our neighbors and our brothers and sisters and our cousins, aunts and uncles should be felons, and we support this because the Bible says so?… It's wrong," Curtis railed, accusing two of the Republican lawmakers who oppose the bill of "promoting hate."
A final vote in the House is set to happen as earlly as today.
Buzzfeed's Chris Geidner spoke with Bennett following the second reading of the bill:
"It feels like we're entering a new day in the state … and people are ready to move on from this discussion of whether homosexuality should be legal or not," Bennett told BuzzFeed Tuesday shortly after the second reading of a bill to formally repeal the state's sodomy law….
…"While it's exciting that we got this point … we've got a number of steps to take forward before we can tackle other issues to make sure everyone in our state is truly equal," he said.
Watch a report from KRTV on the debate and vote, AFTER THE JUMP…