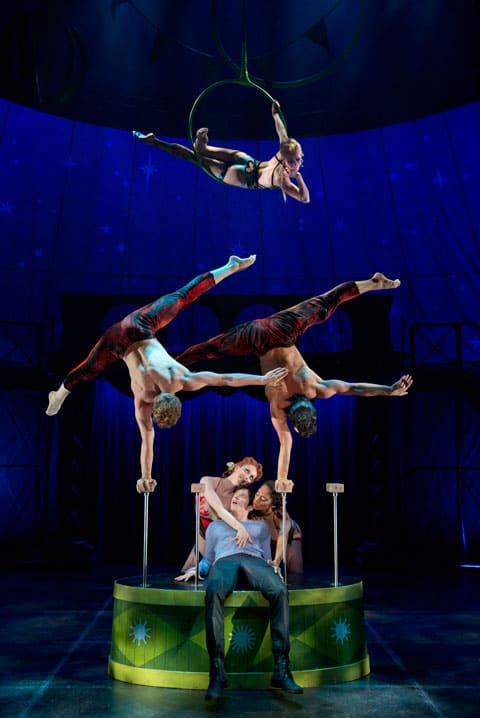 BY NAVEEN KUMAR
Of the incredible human feats being performed on Broadway,
perhaps few are more spectacular than the acrobatics on display in director
Diane Paulus' revival of Pippin,
which opened last Thursday at the Music Box Theatre. Circus performers and
Broadway veterans alike move through the air with great ease, transforming the
much loved though decidedly bizarre 1972 musical with music and lyrics by
Stephen Schwartz and book by Roger O. Hirson into something of a marvel.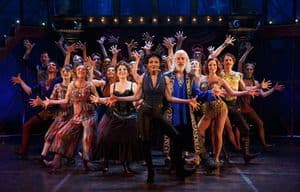 Schwartz and Hirson's story, performed for the audience by a
group of players, is a string of trials and life experiments of a boy prince searching
for an extraordinary life. In a fitting and imaginative twist on the show's
framing device, Paulus transforms the players into a troupe of circus performers,
adding spectacle and structure to the musical's episodic plot.
Patina Miller heads up the troupe as Lead Player (here reconceived
as a female role), driving the production's momentum with radiant energy and
powerhouse vocals. Matthew James Thomas appropriately strikes a more ordinary
note as the directionless prince Pippin. Though he goes along with the Lead
Player's spectacular schemes to give his life meaning, from waging war to
sexual excess, in the end he seems destined for the conventional outcome that's in store for him.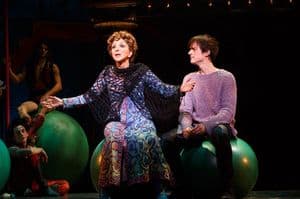 The limber ensemble and talented featured players relish in
their performances, including Rachel Bay Jones as Catherine, Pippin's ultimate
love interest, and Terrance Mann as his father Charles. But it's Andrea Martin as
Pippin's grandmother Berthe who gives the most down to earth and simultaneously
high-flying (and show stopping) performance of the evening. Serving up sage
advice with one of the musical's better-known songs ('No Time at All'), Martin brings
a grounded quality that's rare among the show's more showy characterizations.
The production's awe-inspiring circus elements were conceived
by Gypsy Snider, a co-founder of the Montreal-based 7 doigts de la main (7 Fingers)
circus company. Including choreography by Chet Walker (in the style of Bob
Fosse's for the original production), this revival's use of spectacle goes a
long way toward making up for weaknesses in the written material. Hirson's
meandering book does little more than connect the dots between Schwartz's well-known
score of musical numbers—most of which (though not all) withstand the test of
time.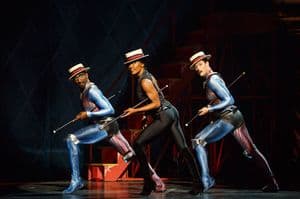 As with her recent Broadway productions of Hair and The Gershwin's Porgy and Bess (a collaboration with
Suzan-Lori Parks on a new book adaptation), Paulus highlights the clear merits
of her original material while coming up with creative solutions to smooth over more problematic areas. If the story itself doesn't delight, the production's visual splendor undoubtedly will.
Recent theatre features…
Bette Midler Opens On Broadway In 'I'll Eat You Last:' REVIEW
'Orphans,' Starring Alec Baldwin Opens On Broadway: REVIEW
Richard Greenberg's 'The Assembled Parties' Opens on Broadway: REVIEW
Playwright Douglas Carter Beane is Back On Broadway With 'The Nance:' INTERVIEW
'Matilda The Musical' Opens On Broadway: REVIEW

Follow Naveen Kumar on Twitter: @Mr_NaveenKumar (photos: joan marcus)