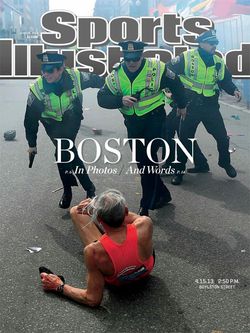 PHOTO OF THE DAY: A gay officer is one of three Boston first responders featured on Sports Illustrated's dramatic cover.  
BY SAM GREISMAN
A look back at today's top stories
BOSTON MARATHON BOMBING
A day after the shocking bombing at the finish line of the Boston Marathon few details about who is behind the attack have been discovered but President Obama is promising to bring the terrorists (be they foreign or domestic) to justice. As if we needed anything else to make us lose faith in humanity it turns out that one of the first victims of the bombings is an 8-year-old boy.

**
GAY NEWS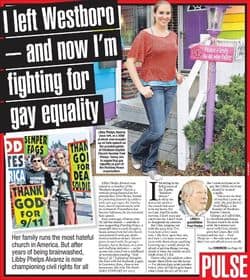 Meet the woman who left the hatefulness of the Westboro Baptist Church behind and is now fighting for gay rights. In case you wanted to dislike the group any more, read the story of how they celebrated when 9/11 happened. For the first time since being outed by TMZ, Magic Johnson's gay son EJ spoke publicly about his sexuality and his family in a skype interview. And there is good news in New Jersey where a new poll shows that well over half the state's voters are in favor of marriage equality. 
**
WINGNUTTERY
Anti-gay craziness continues to come out of France where the country's leading Catholic Bishop announced that gay marriage would lead to more violence. Also a transgender woman from Idaho was banned from shopping at a local grocery store after she used the women's restroom. 
**
VIDEO OF THE DAY
If you wanna know a quick history of music, check out this a cappella group covering a thousand plus years of songs.