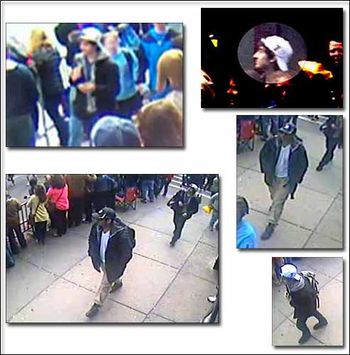 PHOTO OF THE DAY: The FBI has released photos of two men who are wanted for questioning about the Boston bombings and are asking for the public's help in tracking them down.  
BY SAM GREISMAN
A look back at today's top stories
WINGNUTTERY
Actor and prominent anti-incest activist Jeremy Irons continues to talk about his problems with gay marriage as he recently told the BBC that marriage is mainly about procreation. One Million Moms is all hot and bothered again, this time about a Kmart commercial in which a customer ships his pants. Anti-gay violence carries on in France where the employees of a gay bar in the town of Lille were attacked. 
Homophobic Iowa lawmaker (and creepy mustache owner) Dennis Guth recently told the state Senate that being gay is just as dangerous for your health as smoking. And a Catholic School in Ohio has fired one of its teachers after her mother's obituary outed her as a lesbian. 
**
GAY ISSUES
Brittney Griner, the top pick in Monday's WNBA draft, has added her name to the list of openly gay professional women's basketball players. If you enjoyed Brad Paisley's "Accidental Racist" then you will absolutely love Stephen Colbert and Alan Cumming's "Oopsie-daisy Homophobe". Also check out the Brett Ratner directed GLAAD PSA in which straight allies come out of the closet for equality. 
**
VIDEOS OF THE DAY
Just try and not be moved as the crowd at the first sporting event in Boston since the bombings sings an emotionally charged National Anthem. And Jon Stewart lays into the embarrassment that was CNN's coverage of the situation in Boston yesterday.