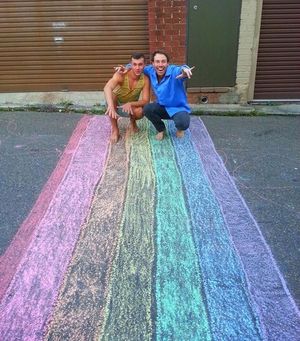 PHOTO OF THE DAY: Do-it-yourself replacement rainbow crosswalks are springing up all over Sydney.  
BY SAM GREISMAN
A look back at today's top stories
ENTERTAINMENT
Its time to get pumped for G.B.F., a new movie about the first kid to come out in a high school and the race to be his bestie. Oh and there are some quality Megan Mullally moments to boot. Also be on the look out for a new British show starring Ian McKellen and Derek Jacobi about a bickering elderly gay couple. Harrison Ford is on the promotional trail for his new movie 42 about Jackie Robinson and during a recent interview he drew a parallel between Robinson breaking the color barrier and the fight for marriage equality. 
Andy Cohen stopped by The Tonight Show With Jay Leno last night and Leno took him to task for saying that he didn't want to marry or shag him. Who can blame Andy? And check out the trailer for Disappear Here starring Belinda Carlisle's gay son James Duke Mason. 
**
WINGNUTTERY
Despite hopes to the contrary it appears that the RNC has voted unanimously to retain its opposition to same-sex marriage. Former Presidential Candidate Alan Keyes has thrown his name in the ring for most ridiculous comparison made to gay marriage as he drew a connection between same-sex marriage and booger eating. Anti-gay Catholic weirdo Bill Donohue made a wonderfully hilarious comment on Current TV recently when he said that marriage is not "about love" or "making people happy". In related news Donohue's wife is miserable.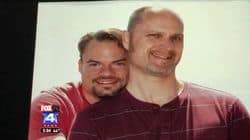 More details continue to emerge on a story we first reported yesterday about a gay man who was forcibly removed from the bedside of his sick husband and seems things are getting uglier. Also apparently the RNC is not crazy enough for Tony Perkins of the FRC and he wants people to stop donating to them. 
**
VIDEO OF THE DAY
This what happens when all your body parts get pissed at each other.