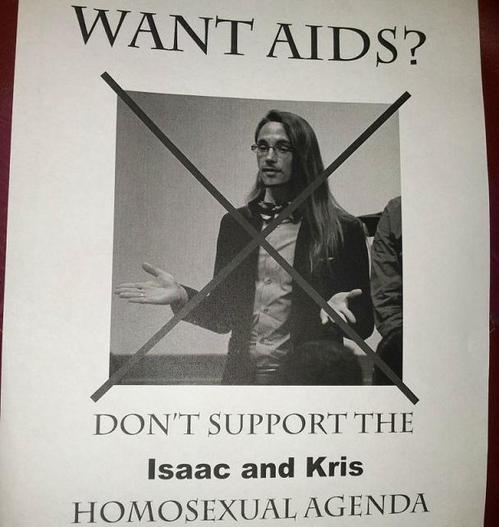 Some disturbing attacks on a student at the University of Houston-Downtown where Kris Sharp, a (not yet official) candidate for student government has been targeted by flyers posted around campus printed with Sharp's medical records that accuse him of promoting a "homosexual agenda".
Houston Press's Hair Balls blog reports:
"I was initially really devastated that this could happen," Sharp, who has taken a week to digest the message, told Hair Balls. "What was going through my head was, 'How quickly can I transfer?'"
Sharp, who'd recently spoken openly about both his sexuality and HIV status, had heard that the flyers were floating around. He'd heard mention that someone was handing them out to passersby, but doesn't know whether anyone's yet laid eyes on the individual, or individuals, who spread these papers through campus. He only knows that he wasn't expecting something this despicable, this horrific, when he initially announced an interest in running for student body president next month…
…"I've never seen anything like this — this is the very first time anything like this has occurred [on campus]," says Sharp. "There's a culture at UHD that is somewhat less accepting of LGBT youth, but something of this magnitude is completely mind-blowing. I knew, going into the election, that I could possibly be targeted because of my sexuality — but I had no idea that it would go to this level."
The university and its police department has begun an internal investigation, and say they believe it's an anomaly, and not indicative of the attitude on campus or the school's policies. Sharp says he believes he knows who did it and wants an apology, not criminal charges.
The Daily Cougar adds:
The clinic Sharp goes to, Thomas Street Health Center, is a few blocks away from the school, and patients will not be seen without proper documentation — even with an appointment. He doesn't have a car, so he brought a folder of the required medical information with him. As a student senator, he shares a common office space with the other members of the Student Government Association and believes someone got the information from his briefcase when he was away.
While some students have been giving him a hard time, he has not lost the support of his running mate.
"(Isaac's) been a trooper," Sharp said. "If I was him, and I was straight, I'd probably drop me."
Sharp sent an email to several news outlets and posted a response on Facebook, making it clear they would not respond to the negativity by engaging in illicit behavior.
"We will instead continue to progress in our campaign to enhance the student experience at the University of Houston-Downtown for all students — no matter their race, nationality, gender, sexual orientation or gender identity and expression."