A long-running battle over the Philadelphia property that the Boy Scouts have been occupying rent-free since 2008 has been settled, ABC6 reports: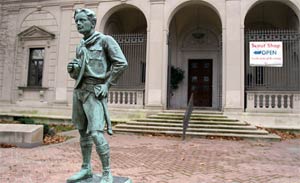 A Boy Scouts of America group will vacate its city-owned Philadelphia headquarters in return for $825,000 under an agreement that settles a long legal battle over the organization's ban on gays, Mayor Michael Nutter's office said Friday.
The Boy Scouts Cradle of Liberty Council staff will leave its downtown Philadelphia headquarters of 85 years by June 30 and the retail store in the building will close by Oct. 31. In exchange, the city will reimburse the Boy Scouts for improvements made to the building, Nutter's office said.
The group's rent-free use of the building came under fire after the Boy Scouts of America barred gays from membership. The city unsuccessfully sought to have the chapter evicted for violation of Philadelphia's anti-discrimination policies.
Watch their report, AFTER THE JUMP…