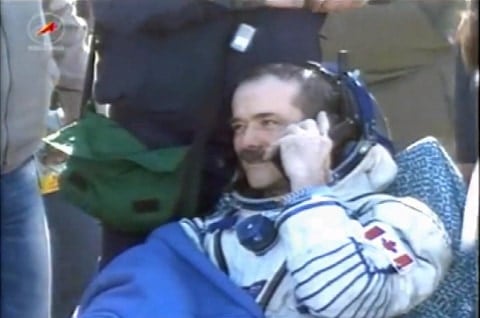 Canadian ISS Commander Chris "Space Oddity" Hadfield is safely back on Earth with two other crew members from the International Space Station, American Thomas Marshburn and Russian Roman Romanenko.
[The spacemen] landed as planned south-east of the town of Dzhezkazgan at 8.31am local time on Tuesday. The Soyuz TMA-07M capsule slowly descended by parachute on to the steppes under clear, sunny skies. Russian search and rescue helicopters hovered over the landing site for a quick recovery effort.
Rescue teams moved quickly to help the crew in their bulky spacesuits exit through the narrow hatch of the capsule. They were then put into reclining chairs to start adjusting to Earth's gravity after 146 days in space.
The three astronauts smiled as they chatted with space agency officials and doctors who were checking their condition. Hadfield, who served as the space station's commander, gave a thumbs-up sign. They then made quick phone calls to family members and friends.
Watch a NASA reel of the landing and a Euronews report, AFTER THE JUMP…